Description
Power Tested: Sapidyne KinExA 3000 Protein Array System
Can be traded up for a KinExA 4000
This Sapidyne Modl KinExA 3000 protein array system has been tested to power
on successfully here in our tech shop. We were not able to test further because
we do not have the required software.
The KinExA 3000 can be traded up for a KinExA 4000 (trade-up value of
$25,000, according to Sapidyne's website). This pre-owned machine can serve
as your ticket to a new & improved iteration.
This KinExA is in great condition, bearing virtually no blemishes besides some
slight corrosion on the hinge.
Do note that this unit does not have a door.
Testing Procedure & Results
When powered on, this KinExA makes a noise indicating the motors are homing
and both green lights on the front turn on.
As stated, we were limited to simply power-testing this instrument due to not
having the required software.
Power cable and tubing included
Backed by a 90-day warranty
From a trusted laboratory dealer
| | |
| --- | --- |
| Manufacturer | Sapidyne |
| Model | Modl KinExA 3000 |
| Serial No. | 1249 |
| Electrical Requirements | 85-265V, 50/60Hz |
| Dimensions | 17" x 20" x 16" (43.2 x 50.8 x 40.6 cm) |
Used
- A pre-owned and tested instrument that may show signs of wear
U.S. & Canada Freight ($285)
- Exclusive shipping to the U.S. and Canada. Freighted products below $1,500 are assigned this profile.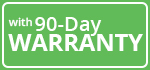 Backed by a 90-day Warranty
- Your instrument works, or we repair, refund, or replace.
Payment & Security
Your payment information is processed securely. We do not store credit card details nor have access to your credit card information.