Description
Thermo Scientific Heraeus Megafuge 40R Refrigerated Benchtop Centrifuge with BIOLiner Rotor, Buckets, and Inserts
Thermo's Heraeus Megafuge 40R centrifuge facilitates flexibility and convenience with its wide range of supported rotors and maintenance-free induction motor, respectively.
We've got a used Megafuge 40R that has been fully tested by our centrifuge specialist and verified to work without issue. The spinning is smooth and quiet and the refrigeration system operates within Thermo's specs. All in all, it's a unit that rivals the performance of a new one -- but costs less than half as much.
Additionally, our system includes a BIOLiner swing-bucket rotor , 4 BIOLiner buckets, and adapters.
Interested? Here's more info on the system's testing, condition, and accessories 👇
Smooth Spinning, Refrigeration Holds at +4°C
This Megafuge meets manufacturer specs across the board and we didn't need to perform any service for it to accomplish that. (In fact, the only service we had to perform at all was replacing a gas spring). We ran the system at 3,500 rpm and it held at a chilly +4°C.
The digital readout, latches, and buttons all work without issue as well. The following is a list of what was tested:
    - Tested to 3,500 rpm: PASSED
    - Tested refrigeration: PASSED
    - Tested control panel: PASSED
    - Tested accel/decel: PASSED
    - Tested lid latching: PASSED
Manufactured 2013, in Fair Condition
There is some noticeable wear and paint scuffing framing the lid and front panel of this centrifuge. There is also some grime built up in the textured plastic of the exterior panels. However, all of these blemishes are merely cosmetic and have no effect on performance.
We recommend you see the photos.
Complete with Swing-Bucket Rotor and Adapters
You will receive the following items:
    - Heraeus Megafuge 40R centrifuge
    - BIOLiner swing-bucket rotor #75003667
    - x4 BIOLiner buckets #75003668
    - X4 BIOLiner adapters #75003672
    - Power cable
The BIOLiner adapters are for 10mL blood collection tubes and can fit 37 tubes per adapter. Maximum capacity is 148 tubes.
From an Experienced Centrifuge Dealer
New Life Scientific is an experienced scientific vendor with a history of positive customer experiences. You can have confidence in our technical evaluations and our warranty knowing that we have actual in-house technicians who inspect, test, service, and repair the various instruments we receive. 
After their examinations and being cleaned inside and out, products often leave our shop meeting manufacturer specs. When you buy from New Life Scientific, you're free to contact us at any time for after-sales support concerning any questions or issues that may arise, even after your warranty expires.


Manufacturer

Thermo Fisher Scientific

Model

Heraeus Megafuge 40R

Catalog No.

75004519

Serial No.

41453043

Mfg. Year

2013

Permissible ambient temperature

+2°C to +35°C

Overvoltage category

II

Pollution degree

2

Heat dissipation

Refrigeration

230V:6653 BTU/h

120V:4476 BTU/h

IP

20

Running time

Unlimited

Max. speed

15200 rpm

Min. speed

300 rpm

Max. RCF

25314 x g

Max. kinetic energy

<62.5 kJ

Noise level at max. speed

<64 dB (A)

Temperature setting range

-10°C to +40°C

Power Specification

120V, 60Hz, 12 A, 1400 W

Dimensions (W x D x H)

29.25" x 26" x 14"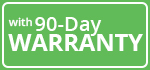 Backed by a 90-Day Warranty - Your instrument works, or we repair, refund, or replace.

Used - A pre-owned and tested product that may show signs of wear.

Flat-Rate Freight ($285) - The instrument is web-wrapped to a pallet with shrink-wrap.

Payment & Security
Your payment information is processed securely. We do not store credit card details nor have access to your credit card information.