Description
Thermo Fisher Heraeus Multifuge X3R Refrigerated Benchtop Centrifuge in Excellent Condition and Manufactured in 2017
With those three attributes, this Heraeus Multifuge X3R offers premium performance without the premium price.
Additionally, this centrifuge is backed by our standard 90-day.
Below is some more info you might care to read:
Tested & Inspected by our Centrifuge Specialist
Our in-house centrifuge expert personally inspected and tested this Heraeus Multifuge, noting no functional problems or damage.
Our technician ran the unit at 4,200 RPM and it held at +5°C. Spinning was smooth and quiet. He also verified that all buttons and latches work.
To summarize, our technician:
- Ran the centrifuge at 4,200 RPM during which it held at +5°C:
PASSED
- Tested all buttons on control panel:
PASSED
- Verified all latches work:
PASSED
- Ensured the gas springs are still in good shape:
PASSED
In Excellent Physical Condition
Both the casing and chamber look fantastic, with the extent of wear 'n tear being a few small scratches. Who says you have to sacrifice cosmetics when buying used equipment?
- Thermo Scientific Heraeus Multifuge X3R centrifuge
- TX-1000 swing-bucket rotor
- x4 buckets*
- Power cable
*Bucket adapters are available separately.
Equipped with Rotor-Detection System
Every Multifuge X3 has integrated rotor-detection technology, which prevents you from selecting centrifugation parameters incompatible with the installed rotor.
4-liter maximum capacity - 2x that of other comparable centrifuges
(And it still manages to have a smaller spatial footprint than those other spinners)
"Maintenance-free Induction Motor"
In the words of the manufacturer:
"The maintenance-free induction motor ensures quiet and low-vibration operation even at high speeds, and guarantees a very long lifetime."
From a Professional Dealer to your Facility
We're an experienced scientific vendor with a history of positive customer experiences. You can have confidence in our technical evaluations and our warranty knowing that we have actual in-house technicians who inspect, test, service, and repair the various instruments we receive.
After examination and thorough cleaning, products often leave our shop meeting manufacturer specs. When you buy from New Life Scientific, you're free to contact us at any time for after-sales support concerning any questions or issues that may arise, even after your warranty expires.
| | |
| --- | --- |
| Manufacturer | Thermo Fisher |
| Model | Heraeus Multifuge X3R |
| Catalog No. | 75004516 |
| Serial No. | 42202540 |
| Mfg. Date | October 24, 2017 |
| Max Speed | 15,200rpm |
| Max RCF | 25,314 x g |
| Capacity | 4 x 1000mL |
| Electrical Requirements | 120V, 60Hz, 12A |
| Power Consumption | 1400 W |
| Temperature Setting Range | -10°C to +40°C |
| Dimensions (W x D x H) | 29" x 26" x 14.5" |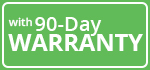 Backed by a 90-Day Warranty - Your instrument works, or we repair, refund, or replace.

Used - A pre-owned and tested product that may show signs of wear.

Flat-Rate Freight with Custom Crate ($380) - The instrument is protected by a custom-built, foam-padded crate.

Payment & Security
Your payment information is processed securely. We do not store credit card details nor have access to your credit card information.