Description
Beckman Coulter Allegra 6R Refrigerated Benchtop Centrifuge in Good Condition and Meets Manufacturer Specification
Tested and serviced by our own dedicated centrifuge technician, this benchtop centrifuge comes from the time-tested Allegra 6 series and performs to-spec without issue. Included with it is a GH 3.8 rotor, 4 buckets, and a power cable. Additionally, this centrifuge is backed by our 120-day warranty.
"Old but Gold" -- Successful Testing & Service
In the words of our tech, the trusty Allegra 6R series is "old but gold". They're reliable and long-lasting. This specific unit is no exception, as proven in the following tests:
- Ran centrifuge to 3,750 RPM, holding at +2°C:
PASSED
- Tested timer:
PASSED
- Tested latch:
PASSED
- Tested brake:
PASSED
- Ensured system ran quietly:
PASSED
- Tested all switches:
PASSED
In servicing this centrifuge, our technician:
- Replaced the air filter
- Replaced the temperature probe
- Vacuumed dust out of condenser
In Fair Cosmetic Condition
This centrifuge has seen its share of use. There are stains across the exterior panels, along with some scuffs on the front panel. We recommend that you review all the photos for more details.
These blemishes are purely cosmetic and will not affect the centrifuge's performance.
You Will Receive the Following:
- Beckman Coulter Allegra 6R centrifuge
- GH 3.8 Swing-Bucket Rotor
- x4 Buckets
- Power cable
From an Experienced Centrifuge Dealer to your Lab
New Life Scientific is an experienced scientific vendor with a history of positive customer experiences. You can have confidence in our technical evaluations and our warranty knowing that we have actual in-house technicians who inspect, test, service, and repair the various instruments we receive.
After their examinations and being cleaned inside and out, products often leave our shop meeting manufacturer specs. When you buy from New Life Scientific, you're free to contact us at any time for after-sales support concerning any questions or issues that may arise, even after your warranty expires.
- GH-3.8A w/ 4 x 750 mL/192 mL max capacity (GS6-TB-017)
- GH-3.8 w/ 4 x 750 mL/192 mL max capacity (GS6-TB-003)
- PTS-2000 w/ 4 x 192 mL max capacity (SP-TB-008)
- GH-4.7 w/ 4 x 250 mL max capacity (GS-TB-024)
- GA-6 35° Fixed-Angle w/ 6 x 250 mL max capacity (GS-TB-023)
| | |
| --- | --- |
| Manufacturer | Beckman Coulter |
| Model | Allegra 6R |
| Serial No. | ALR98E64 |
| Mfg. Year | 1998 |
| Catalog No. | 366816 |
| Speed Setting Range | 0 to 8,000 rpm |
| RPM | 3,750 (Rotor max) |
| RCF | 3,200 x g (Rotor max) |
| Temperature Setting | -10 to +40°C |
| Normal Operating Range | -5 to +25°C |
| Temperature Display | ±2°C actual chamber temp |
| Run Time | 0 to 30 Mins, Continuous Mode |
| Electrical Specifications | 120V, 12A, 60Hz |
| Dimensions (W x D x H) | 30 x 27 x 15.75" |
| Weight | 167 lbs (75.8 kg) |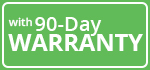 Backed by a 120-Day Warranty - Your instrument works, or we repair, refund, or replace.

Used - A pre-owned and tested product that may show signs of wear.

Flat-Rate Freight ($285) - The instrument is web-wrapped to a pallet with shrink-wrap.

Payment & Security
Your payment information is processed securely. We do not store credit card details nor have access to your credit card information.