Description
Beckman Coulter Avanti J-E Refrigerated Floor Centrifuge in Excellent Condition
Fully inspected and tested to make sure it performs as smoothly as possible, this used high-speed floor centrifuge from Beckman Coulter will deliver the performance you need.
Tested by Technician to Ensure Peak Performance
This Avanti J-E met manufacturer specifications across the board without any service or preventative maintenance. Our in-house centrifuge specialist confirmed that:
- The centrifuge spins up to max speed of 21k rpm:
PASSED
- The temperature held at 0°C during the run:
PASSED
- The door latch and all buttons work properly:
PASSED
- Brake and lid sensors work properly:
PASEED
- There was no excessive noise:
PASSED
In Excellent Cosmetic Condition
This centrifuge, having been manufactured in 2013, was maintained well and is still in good condition. Only minor signs of wear, such as a scuff on the front panel and a bit of dust around the edges of the LED display, are present. Please review the photos to see more.
Please note that this centrifuge is configured for 208v.
Want to add a rotor to your order?
This centrifuge doesn't come with a rotor, but we do have compatible ones in stock -- so please don't hesitate to contact us if you'd like to add one to your purchase!
From an Experienced Centrifuge Dealer to your Lab
New Life Scientific is no stranger to centrifuges. Over the past four years, we have dealt in and worked on a wide variety of benchtop and floor centrifuges from the top manufacturers, including Beckman, Sorvall/Thermo, and Eppendorf.
You can have confidence in our technical evaluations and our warranty knowing that we have actual in-house technicians who inspect, test, service, and repair centrifuges. After their examinations and being cleaned inside and out, they often leave our shop meeting manufacturer specs.
When you buy from us, you're not just buying a centrifuge. You also gain a resource for after-sales support for any questions or issues that may arise, even after your warranty expires.
| | |
| --- | --- |
| Manufacturer | Beckman Coulter |
| Model | Avanti J-E |
| Catalog No. | 369003 |
| Serial No. | JSE13B30 |
| Mfg. Date | February 27, 2013 |
| Maximum Speed | 21,000 rpm |
| RCF | 53,300 x g |
| Maximum Capacity | 4 Liters |
| Set Temperature | -10°C to 40°C in 1° increments |
| Temperature Control | ±2°C of set temperature after equilibration |
| Accel/Decel Profiles | 2/3 |
| Power Requirements | 230V, 50Hz, 24A200-240V, 50/60Hz, 20 Amps |
| Dimensions (W x D x H) | 25" x 32" x 36" |
| Weight | 267.4 kg (589 lb) |
Fixed-Angle Rotors

Part No.

Max Speed (rpm)

JA-25.50

363055 Single-Locking Lid
363058 Dual-Locking Lid

21,000

JA-20.1

342095

20,000

JA-21

334845

21,000

JA-20

334831

20,000

JA-17

369691

17,000

JLA-16.250

363934 Single-Locking Lid
363930 Dual-Locking Lid

16,000

JA-18

369679

16,000

JA-14

339247

14,000

JA-12

360993 Single-Locking Lid
360992 Dual-Locking Lid

12,000

JLA-10.500

369681

10,000

JA-10

369687

10,000

JLA-9.1000

366754

6,300

Swinging Bucket Rotors






JS-13.1

346963

13,000

JS-5.3 AllSpin

368690

5,300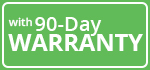 Backed by a 90-Day Warranty - Your instrument works, or we repair, refund, or replace.

Used - A pre-owned and tested product that may show signs of wear.

Flat-Rate Freight with Custom Crate ($580) - The instrument is protected by a custom-built, foam-padded crate.

Payment & Security
Your payment information is processed securely. We do not store credit card details nor have access to your credit card information.