Description
Bright Instruments Vibratome 7500 Cryostat Microtome -- Refrigeration Recharged to Manufacturer Cooling Specification
Featuring a cooling range of -35°C to 0°C and radial sectioning to reduce compression, the Bright Vibratome 7500 is an ideal general-use cryomicrotome.
In excellent condition and at a steep discount, our used Vibratome can hold its own against a brand new cryostat while saving you thousands of dollars.
Purchasing a cryostat with an unverified refrigeration system can be risky. At NLS, we service and repair cryostats, give precise information on the instrument's health, and back it with our 90-day warranty, giving you time to test the system and ensure it meets your expectations.
Refrigeration Professionally Recharged
After being recharged by one of our technicians, this Vibratome's cooling system consistently meets the manufacturer's minimum temperature specification (-35°C) and even exceeds it. The lowest temperature we recorded it reaching was -38°C.
Although the quick-freeze embedding mold only cools to -48°C rather than the -55°C specification, we are confident it will work just fine for the majority of applications.
To ensure the refrigeration is operating at manufacturer specification, our technician performs a full evacuation of the refrigeration system and refills it with new refrigerant. The recharge process involves the following:
- Vent system of refrigerant
- Apply 250-micron vacuum to test for leaks, remove debris, and boil off moisture in lines
- Nitrogen purge three times to clear lines for preventative maintenance
- Refill system with new refrigerant
- Confirm system is operating to manufacturer specification
Thorough & Efficient Liquid Decontamination Guards Against Biohazards
The Vibratome 7500 is armed with a "jet-spray" decontamination solution that, at the press of a button, douses every inch of the cryostat's blade and chamber with sterilization and rinse fluids. After its 3.5 hour runtime, the fluids are conveniently captured in bottles for safe disposal.
From an Experienced Dealer to your Lab
New Life Scientific is an experienced scientific vendor with a history of positive customer experiences. You can have confidence in our technical evaluations and our warranty knowing that we have actual in-house technicians who inspect, test, service, and repair the various instruments we receive.
After examination and thorough cleaning, products often leave our shop meeting manufacturer specs. When you buy from New Life Scientific, you're free to contact us at any time for after-sales support concerning any questions or issues that may arise, even after your warranty expires.
| | |
| --- | --- |
| Manufacturer | Bright Instruments |
| Model | Vibratome 7500 |
| Mfg. Date | October 2003 |
| Cab. No. | 7500-002 0300801003 |
| Mic. No. | 0080 |
| Unit No. | SC12CL |
| Comp. No. | 003625 |
| Power Requirements | 110/115V, 50/60Hz, 0.8 KVA |
| Chamber Cooling Range | -35°C to 0°C |
| Section Thickness Range | 0.5 - 30µm in 0.5µm increments |
| Knife Angle Adjustment | 25° |
| Power Requirements | 110/115V, 60Hz, 0.9 KVA |
| Dimensions (W x D x H) | 31.9" x 35.4" x 51.2" (81 x 90 x 130 cm) |
| Net Weight | 264.6 lbs (120 kg) |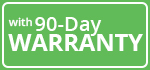 Backed by a 90-Day Warranty - Your instrument works, or we repair, refund, or replace.

Used - A pre-owned and tested product that may show signs of wear.

Flat-Rate Freight with Custom Crate ($580) - The instrument is protected by a custom-built, foam-padded crate.

Payment & Security
Your payment information is processed securely. We do not store credit card details nor have access to your credit card information.