Description
Thermo Microm HM 550 P Cryostat in Good Condition: Inspected, Tested, and Ready for your Lab
Thoroughly tested and serviced by our technical staff, this HM 550 P has been confirmed to slice smoothly and maintain a chamber temperature of -33°C when illuminated, just 2° off the manufacturer specification.
Included with this cryostat are a universal blade holder equipped with lateral displacement capabilities, an anti-roll plate, 4 specimen discs, trays, and shelves. Additionally, this cryostat is backed by a 90-day warranty.
Sections Smoothly & Holds at -33°C
While illuminated, this cryostat's chamber can hold its temperature at a chilly -33°C -- just two degrees above the minimum supported temperature of -35°C.
We disassembled, cleaned, lubricated, and adjusted the knife holder and specimen disc chuck until the cryostat's slicing rivaled that of a new unit. Finally, we ensured that the automatic approach, advance, and retraction features worked smoothly.
We're confident this HM 550 P will deliver smooth, reliable performance.
In Good Cosmetic Condition
Aside from some typical usage wear, this cryostat has been maintained well and continues to be in good condition. We advise that you review the photos for more details.
- Microm HM 550 P Cryostat
- Universal disposable blade holder (with lateral displacement option)
- Anti-roll plate
- x4 Specimen discs
- Front tool tray
- Rear waste tray
- x2 Side shelves
- Wall stand-off pegs
- Power cable
From a Professional Dealer to your Lab
New Life Scientific is an experienced scientific vendor with a history of positive customer experiences. You can have confidence in our technical evaluations and our warranty knowing that we have actual in-house technicians who inspect, test, service, and repair the various instruments we receive.
After examination and thorough cleaning, products often leave our shop meeting manufacturer specs. When you buy from New Life Scientific, you're free to contact us at any time for after-sales support concerning any questions or issues that may arise, even after your warranty expires.
Manufacturer

Thermo Scientific

Model

Microm HM 550 P

Cat. No.

956424

Serial No.

35131

Chamber temperature control

-10°C to -35°C

Specimen temperature control

+10°C to -50°C

Fine sectioning thickness

1 to 100 um

Trim sectioning thickness

5 to 500 um

Horizontal feed

28mm

Vertical stroke

60mm

Fast freezing station depending on the chamber temperature

up to -35°C

Actively cooled fast freezing station with Peltier element

max. up to -60°C

Defrosting

automatic defrosting, adjustable with temperature control
manual immediate defrosting

1 to 100 um Resolution

1 um from 1 to 10 um
2 um from 10 to 20 um
5 um from 20 to 70 um
10 um from 70 to 100 um

Trimming thickness range

5 to 500 um

5 to 500 um Resolution

5 um from 5 to 10 um
10 um from 10 to 100 um
20 um from 100 to 200 um
50 um from 200 to 500 um

Specimen retraction during return travel

40 um

Vertical specimen stroke

60 mm

Horizontal specimen movement

28 mm

Specimen approach

Automatic function
Alternatively manual with variable speed

Size of chucks

30 and 40 mm
special sizes upon request to manufacturer

Specimen orientation

X- and Y-axes: universal 8° with zero positioning
Z-axis: up to 360°

Coarse feed

motorized, graduated, single and continuous

Sliding window

heated

Cooling chamber illumination

with variable illumination position

Dimensions (W x D x H)

30" x 25" x 47" (64 x 76 x 120 cm)

Power Requirements

115V, 60Hz, 12A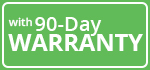 Backed by a 90-Day Warranty - Your instrument works, or we repair, refund, or replace.

Used - A pre-owned and tested product that may show signs of wear.

Flat-Rate Freight with Custom Crate ($580) - The instrument is protected by a custom-built, foam-padded crate.

Payment & Security
Your payment information is processed securely. We do not store credit card details nor have access to your credit card information.