Description
Tested and in Excellent Condition - Cedex HiRes
Cell Analyzer with PC, Software, and Security
Dongle
Thoroughly inspected and tested by our technician, this Cedex HiRes cell analyzer
is functional and comes to you as a near complete system with PC, Cedex software,
and software security dongle. Youll only need to acquire the sample cup tray and
reagents/consumables for the system to be fully-operational.
The physical condition of this cell analyzer is excellent both inside and out, with no
noticeable scratches or scuffing on the exterior surfaces.
Components Tested and Error-free Diagnostic
Our technician installed Cedex software and successfully connected the analyzer
to the PC, running diagnostics without error and testing the components to verify
functionality. No problems were found.
The following tests and services were performed:
- Successfully connected Cedex HiRes analyzer to PC
- Ran diagnostics without error
- Ran and completed focus adjustment
- Greased motor slides, motors and sensors tested and working
- Syringe pump tested, aspirated solution and moved it through the flow cell
- Camera tested, successfully captured images but could not reach 100% focus
on bead standard for calibrations due to lack of reagents.
Most tubing was not checked due to lack of reagents and other consumables.
Near Complete Cell Analyzer System
We have everything you need except for the sample cup tray, reagents and other
consumables. The system we are offering includes the following:
- PC w/ Monitor, Keyboard, and Mouse
- Software Security Dongle
- Cedex HiRes V1.10 Software and User Manual
- Power Adapter and Cables
90-Day Warranty for your Peace-of-Mind
We realize that buying pre-owned can be unnerving, so we include a 90-day
warranty on our equipment to protect you against any equipment failure or
defects. If anything goes wrong, our in-house support is only a phone call away.
Manufacturer

Innovatis

Model

Cedex HiRes

Serial No.

G037D6021

Method of Measurement

Digital image recognition

Detectable Cell Density Range

5 x 104 - 1 x 107 cells/mL

Detectable Cell Diameter Range

2 - 40 m

Required Sample Volume

300 L

Software

Cedex HiRes V1.10

Voltage

24VDC 4,17A

Voltage Adapter

Input: 100-240VAC, 47-63Hz, 3A
Output: 24VDC, 4A

Dimensions (W x D x H)

16 x 20 x 19 in
Used
- A pre-owned and tested instrument that may show signs of wear
Flat-Rate Freight ($285) - 
The instrument is web-wrapped to a pallet with shrink-wrap.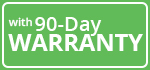 Backed by a 90-day Warranty
- Your instrument works, or we repair, refund, or replace.
Payment & Security
Your payment information is processed securely. We do not store credit card details nor have access to your credit card information.