Description
VirTis SP Scientific Sentry 2.0 Freeze Dryer Lyophilizer with 12-Port Manifold: Meets Manufacturer Specifications
Thoroughly tested and serviced to ensure it provides the best possible performance, this freeze dryer performs to manufacturer's specifications across the board and is in excellent physical condition.
Included with this freeze dryer is a 12-port manifold, 12 shut-off valves, a vacuum pump, and more. This system is also supported by our 90-day warranty.
Fully Tested & Serviced by our Freeze Dryer Specialist
Our freeze dryer specialist personally inspected, tested, and serviced this unit to ensure there were no cosmetic or functional compromises. Every aspect of this system performed without issue. More information about our technician's work can be found below.
Servicing included the following:
- Replaced all vacuum hoses
- Performing multiple oil changes on vacuum pump
- Added oil mist collector and quick-change valve to vacuum pump
Testing included the following:
- Cooling, which reached
-75°C
- Vacuum, which exceeded performance specs of
20mT
- Defrosting
- Control panel
- Amperage draw (compressor was 5.8 amps, vacuum pump was 9.2 amps)
Manufactured in 2013 & In Excellent Condition
Bearing virtually no signs of wear, this freeze dryer's condition rivals that of a new unit. Its display screen is bright, clear, and scratch-free, and the exterior has no dents or major scuffing. Please see the photos for more details.
- VirTis SP Scientific Sentry 2.0 freeze dryer
- 12-port manifold with all valves
- Vacuum pump
- Oil evacuator
- 1gal of vacuum pump oil
- Power cables
Everything shown in the photos comes with this system. Please review the photos for more information.
Features Auto-cascade for Optimized Cooling
Thanks to the efficient auto-cascade refrigeration system, this unit can reach -75°C with only one compressor. Our technician measured the amperage draw of the system and found the compressor pulled 5.8 only amps. If you're looking to go green, this system's efficiency will further your goal without compromising performance.
From a Professional Dealer to your Lab
New Life Scientific is an experienced scientific vendor with a history of positive customer experiences. You can have confidence in our technical evaluations and our warranty knowing that we have actual in-house technicians who inspect, test, service, and repair the various instrμments we receive.
After examination and thorough cleaning, products often leave our shop meeting manufacturer specs. When you buy from New Life Scientific, you're free to contact us at any time for after-sales support concerning any questions or issues that may arise, even after your warranty expires.
Manufacturer

VirTis/SP Scientific

Model

Sentry 2.0

Model No.

4KBTXL-75

Serial No.

314577

Date of Manufacture

August 2013

Part No.

100005917

Lowest Condenser Temperature

-75°C

Maximum Condenser Capacity

3 L

Maximum Ice Condensing Capacity in 24 hours

2 L

Maximum Deposition Rate

0.08 L/hour

Number of Compressors

1

Compressor Horsepower

1/3

System Refrigerant

R245fa/R508B

Average Vacuum Time to 100 Millitorr

15 minutes

Lowest System Vacuum

<= 20 mT

Power Electrical Requirements

100/115 V, 50/60 Hz, 15 Amps, Phase 1

Dimensions (W x D x H)

15 x 21 x 16.5" w/o manifold
15 x 21 x 33.5" w/ manifold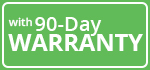 Backed by a 90-Day Warranty - Your instrument works, or we repair, refund, or replace.

Used - A pre-owned and tested product that may show signs of wear.

Flat-Rate Freight with Custom Crate ($580) - The instrument is protected by a custom-built, foam-padded crate.

Payment & Security
Your payment information is processed securely. We do not store credit card details nor have access to your credit card information.