Description
Miles Scientific Tissue-Tek VIP 2000 Model 4618: Fully Tested and in Good Condition
This Tissue-Tek VIP 2000 (model 4618) has been thoroughly tested with excellent results here at the New Life Scientific tech shop.
Packaged with a programming magnet, all of its paraffin tanks, processing bottles, and an attached power cable, this VIP 2000 includes everything you need except for consumables and tissue baskets.
Ran Short & Long Cycles Successfully -- No Problems Found
Our technician fully tested this tissue processor and confirmed that it delivers solid performance. After flushing water through every station 3 times, our tech then did a short run and an overnight run. Both were successful.
Finally, our tech prepped the processor for storage by installing a new battery and flushing the lines with alcohol to dry them out.
In Good Cosmetic Condition
This VIP 2000 is in exceptionally good cosmetic condition. The area around the retort is clean and free of chipped paint, which is unusual in itself. Additionally, the retort itself is clean. The only blemishes are some spots of chipped paint on the body panels. We recommend you review the photos.
- Miles Scientific Tissue-Tek VIP 2000
- Reagent Bottles
- x4 Paraffin Tanks
- Programming Magnet
- Attached Power Cable
It's a Tried & True Machine
Tissue-Teks are certainly an older series than some competition. Their longevity testifies of one thing: reliability. Tissue-Teks are robust workhorses and the VIP 2000 is no exception. Though it's seen regular usage over the years, it will continue to perform well for a long time yet.
It's that premium performance at a used price that makes this unit a worthwhile investment.
We're An Experienced Tissue Processor Dealer
New Life Scientific is a regular seller of tissue processors from Sakura, Leica, and Shandon. We have lots of experience servicing and repairing them. In fact, we don't just power on the processors and call it a day -- we test all of their core features.
We offer you an affordable option for used tissue processors without the risk of buying an untested, unwarranted item from an unproven seller. Over the years, dozens of organizations have chosen us as their solution, from small labs to major universities.
| | |
| --- | --- |
| Manufacturer | Miles Scientific |
| Model | Sakura Tissue-Tek VIP 2000 |
| Model No. | 4618B |
| Serial No. | 8922189 |
| Retort Capacity | 200 specimens |
| Paraffin Stations | 4 |
| Processing Reagent Stations | 10 |
| Cleaning Reagent Stations | 2 |
| Fume Filters | 2 |
| Reagent Bottle | 3.0L each |
| Paraffin Tank | 3.0L each |
| Electrical Requirements | 115VAC, 60Hz, 1380VA |
| Dimensions (W x D x H) | 39.5 x 23 x 23.5" |
| Weight | 109 kg (242 lbs) |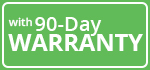 Backed by a 90-Day Warranty - Your instrument works, or we repair, refund, or replace.

Used - A pre-owned and tested product that may show signs of wear.

Flat-Rate Freight ($285) - The instrument is web-wrapped to a pallet with shrink-wrap.

Payment & Security
Your payment information is processed securely. We do not store credit card details nor have access to your credit card information.