Details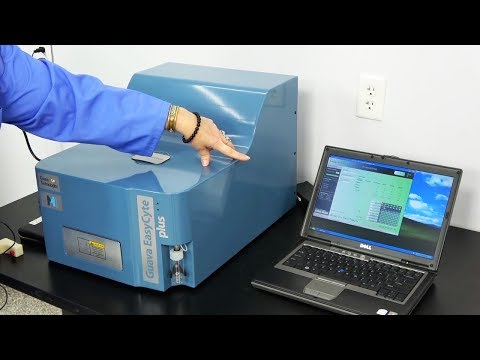 Millipore Guava Technologies EasyCyte Plus Flow Cytometer w/ PC & CytoSoft - YouTube
Video will open in a new window
Using the eBay App? Paste link into a browser window:
[isdntekvideo]
Fully Functional Guava EasyCyte Plus Cytometer - PC w/ Software  & Flow Cell Included
"Streamlines cell phenotyping"
The Millipore Guava Technologies EasyCyte Plus is a powerful, yet flexible,
flow cytometer that, in the words of the manufacturer, "streamlines cell
phenotyping, drug discovery, and cell culture monitoring and screening" via
its turnkey assays.
Our Guava EasyCyte Plus, manufactured in late August 2008, includes a Dell
Latitude laptop pre-installed with the Guava CytoSoft, active assays, a good
flow cell, and various accessories.
In excellent condition inside and out, our EasyCyte Plus can be an asset to
your laboratory.

Spot-On Results
One of our technicians tested this EasyCyte Plus with fresh GuavaCheck solution,
a fluid concocted by Millipore for quality control procedures in the Guava
series. The instrument's output concerning the GuavaCheck fluid was spot-on,
proving that the instrument is perfectly operational.
Active assays, quality flow cell, and more
Besides the PC and software, we're selling this EasyCyte Plus with a variety of
bonuses, including:
    - All-active assays (see photos)
    - Quality flow cell
    - Flow cell removal tool
    - Shipping block (to secure stage during transport)
    - USB cable (to connect EasyCyte to PC)
    - 120VAC power cable
    - Allen wrench
90-Day Warranty for your Peace of Mind
Buying pre-owned can be unnerving. We realize you want assurance in your
purchase, so we include a 90-day warranty on our equipment. If anything goes
wrong, our in-house support is only a phone-call away.
Support for Instrument Longevity - In addition to our 90-day warranty, we
offer you continued support from our technicians, including technical questions
and consulting. We may be able to offer exchange or back-up units in a pinch.


Dependable Instrument Vendor
New Life Scientific is an experienced scientific vendor with a history of
positive customer experiences (just check out our eBay reputation!). You
can have confidence in our technical evaluations and our warranty knowing
that we have actual in-house technicians who inspect, test, service, and
repair the various instruments we receive.
After examination and thorough cleaning, products often leave our shop
meeting manufacturer specs.
When you buy from New Life Scientific, you're free to contact us at any time
for after-sales support concerning any questions or issues that may arise, even
after your warranty expires.


Manufacturer Specifications
Manufacturer

Millipore / Guava

Model

EasyCyte Plus

Serial Number

GTI-3630080342

Mfg. Date

August 2008

Voltage




100-240V, 50/60Hz, 120W




Dimensions (W x D x H)

16.25" x 22.25" x 14.5"

(41.28 cm x 56.52 cm x 36.8 cm)