Details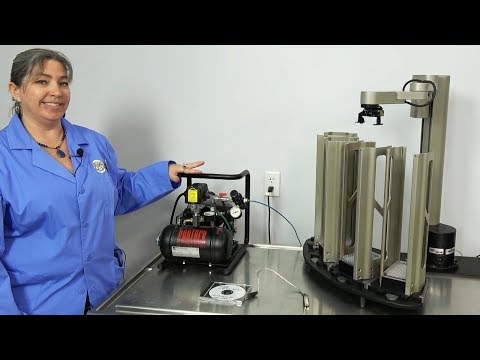 PAA KiNEDx Kx-300-470 SCARA Robot w/ Stacks Microplate Handler Peak Robotics - YouTube
Video will open in a new window
Using the eBay App? Paste link into a browser window:
[isdntekvideo]
Key Points     
- Fully-Tested and Initialized with Successful Self-Test
- Excellent cosmetic condition with normal wear
- Mfg. Date: May 2011
- 90-Day Warranty


Includes:
- PAA KiNEDx Kx-300-470 SCARA Robot with pneumatic grippers
- Sealed Compressor/Tank with regulator and filter
- e-Stop Button
- (4) 96-Well Stacks
- Base for Stacks
- ALL power and data cables for the equipment
    *including a 9-pin serial port and or USB port (USB to serial adapter)
- CD with the robot control software/ DLL, the manuals (robot hardware, robot software, robot
   repair and DLL for that is compatible)
    * Note to buyer: System will need to be installed on Windows XP, Windows 7 or Windows 10.

This instrument is warranted functional and protected by our 90-day warranty.


Technician's Review
Our in-house technician inspected the PAA KiNEDx Kx-300-470 SCARA Robot and initialized it with a successful self-test. He then loaded the software on a loaner PC (not included) and ran the teach pendant application. He programmed in the positions and saved them and was able to create rules regarding movements and instruct the robot to move to those locations. The E-Stop was tested and functions properly. The compressor is super quiet. The robotics is smooth and fast responding.

This robot software uses a Universal DLL: The robot control software is a .NET DLL (Dynamic Link Library) written in Visual Basic 2005. The end-user is responsible for supplying a host application for writing robot sequences. The host application can be written using any software development tool capable of interfacing with a DLL, such as VB, C++, C#, Java, etc


Manufacturer
Mfg. Date

PAA
May 2011

Model

KiNEDx Kx-300-470 SCARA Robot

Serial Number

3232

Power Requirements

115V, 60Hz