Description
Lot of 11 Coulbourn H10-24 Habitest Isolation Cubicles and Accessories
In Good Cosmetic Condition - Great for Lab Start-Up

Since you have landed on this page then you are looking for reasonably priced Lab supplies or equipment. We are competitively priced and guarantee our products.
The cubicles are in good cosmetic condition with a wide assortment of accessories and parts. This would be a extraordinary sale for a start-up small animal testing lab.
These have not been individually tested but will carry our 90-day warranty for your peace of mind on use equipment. As you can see from the photos there is a wide variety of parts that will go along with this sale. Some appear to be in working condition and others will be ideal for spare parts.
Here is some of what you will receive
- 11x Isolation Cubicles H10-24
- 1x Tray (13.5 x 7.5 x .75 in.)
- 11x Trays (11 x 10.5 x .75 in.)
- 17x Trays (19.75 x 10.5 x .75 in.)
Extra Parts numbers (Some are working and some are for parts only)
- 8x Replacement Liquid Reservoir H14-05M
- 1x Retractable Lever H23-17MA
- 17x Retractable Lever H23-17R
- 8x Retractable Lever H23-17RA
- 10x Pellet Feeder H14-23R
Assortment of extra parts and communication cables that are inside the cubicles already.
** The wire rack stands are not included in the sale**
Not what you are looking for? Check out our store for a much larger assortment of laboratory supplies and equipment.
What is shown in the pictures is what you will receive unless further stated.
Reliable Instrument and Parts Vendor
New Life Scientific is an experienced scientific vendor with a history of positive customer experiences (just check out our reviews!). You can have confidence in our technical evaluations and our warranty knowing that we have actual in-house technicians who inspect, test, service, and repair the various instruments we receive.
Manufacturer

Coulbourn Instruments

Model

H10-24 Habitest

Dimensions (WxDxH)

Approx.

Cubicles

O.D.: 31.5 x 20.75 x 20.75 in

I.D.: 30 x 17.5 x 18.25 in.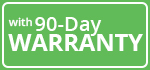 Backed by a 90-Day Warranty - Your instrument works, or we repair, refund, or replace.

Used - A pre-owned product that may show signs of wear.

Calculated Freight - This shipping method required.

Payment & Security
Your payment information is processed securely. We do not store credit card details nor have access to your credit card information.