Functional Condition
These instruments perform at manufacturer specifications, having undergone repair or service and sometimes cosmetic refinishing. Often, our work leaves the instrument in better functional condition and expected longevity than other used instruments of the same age. They are in excellent cosmetic condition.

Includes 120 day Warranty

These instruments have been confirmed to perform at manufacturer specifications by NLS technical staff and carry a longer warranty than standard used products. Additional extended warranties may be available for these instruments.

Includes 120 day Warranty

These instruments have undergone various levels of quality testing, some quite limited and others extensive. However, all are guaranteed to perform to manufacturer specifications unless some defect or limitation has been specified. Please pay close attention to the description to understand exactly what you are purchasing.

Includes 90 day Warranty

These instruments are either known to be malfunctioning or not guaranteed to function properly and are suitable for repair or salvaging for parts. They are not protected by a warranty.

Does not include a warranty
Cosmetic Condition
This product could almost be mistaken for being new, having negligible or no cosmetic issues. These issues may include things such as a small scratch or a few small nicks in the exterior. Little can be done to improve the condition level of this product.

This product has the appearance of a typical used product having some minor cosmetic issues and typical wear from use. These issues may include things such as scratches, scuff marks, nicks, a small hairline crack, or shallow dents in the exterior. Fixing these issues would only somewhat improve the condition level of this product, but wouldn't be considered necessary.

This product is clearly used and worn from much use having significant cosmetic issues and wear. These issues may include things such as large sections of paint chipping, scratches, deep scuff marks, dents, discoloration, cracks or stains. Fixing these issues would improve the condition level of this product, but it may be too costly.

This has the appearance of being broken and/or heavily worn from use having serious cosmetic issues and wear. These issues may include things such as huge sections of missing paint, discoloration, caustic erosion, deep dents, large cracks or frame warping. A major overhaul of the cosmetics would be required to fix the issues with this product.
Description
Malvern Microcal iTC 200 Isothermal Titration Calorimeter in Excellent Condition: Tested, Turnkey System
Tested, in excellent condition, and packaged with a plethora of accessories, this iTC 200 has been professionally verified to work by our technical staff.
Included with this calorimeter are a full PC setup, software, syringes, reagent bottles, and more. Additionally, the entire system is in excellent condition -- buying used doesn't have to mean compromising on cosmetics.
Successful Heating, Pumping, and Washing
After inspecting this calorimeter, we performed the following tests:
- Calorimeter powered on and initialized properly:
PASSED
- Communication was established between the calorimeter and the software:
PASSED
- Pumped fluids, ran washing module:
PASSED
- Ensured temperature sensor reads accurately:
PASSED
- Oven heats to 30°C:
PASSED
Malvern's technical support team greatly assisted us in testing, which allows us to evaluate as much of this system as possible and thus ensure that it has zero problems.
In the slim chance something does go awry, you're protected by our 90-day warranty.
Bearing virtually no signs of wear, this calorimeter and all of its accessories are in excellent condition and will look great on your bench.
Current Model Manufactured in 2015
Packaged With a Plethora of Accessories
This listing consists of:
- Malvern Microcal iTC 200 Isothermal Titration Calorimeter
- PC preinstalled with iTC200 Control Software (v. 1.26.4), monitor, keyboard/mouse
- 6x Consumable Syringes(one already installed in the calorimeter)
- 4x Glass Reagent Vessels
- 2x iTC200 Pipettes (one with wooden storage case)
- 2x Hamilton SYN50018P Syringes
- Power Outlet Adapters
- Product Literature
- Hard-shell Carrying Case
- Assorted accessories (O-rings, plungers of varying µL sizes, etc.)
- All tubing and cables
Requires Only a 10µg Sample
Upgrade To Full Automation
Per Malvern Panalytical's website, you can upgrade this iTC200 to the Auto-iTC200 for full workflow automation.
Additional Shipping Options Available Upon Request
From a Professional Dealer to your Lab
New Life Scientific is an experienced scientific vendor with a history of positive customer experiences. You can have confidence in our technical evaluations and our warranty knowing that we have actual in-house technicians who inspect, test, service, and repair the various instruments we receive.
After examination and thorough cleaning, products often leave our shop meeting manufacturer specs. When you buy from New Life Scientific, you're free to contact us at any time for after-sales support concerning any questions or issues that may arise, even after your warranty expires.
Manufacturer

Malvern Panalytical

Model

Microcal iTC200

Serial No.

02-14-948

Mfg. Date

04-10-2015

Performance Specifications

Operating Temperature Range

2°C to 80°C

Response Time

10 seconds

Cell Design

200 µl, coin-shaped

Titration Syringe

40 µl

Maximum Usable Volume

38 µl

Stirring Rate

500 to 1500 rpm

Physical Specifications

Cell Material

Hastelloy Ally C-276

Weight (fully assembled)

9.4 kg (20.75 lbs)

Calorimeter Dimensions (W x D x H)

21 x 34.9 x 33.7 cm (8.26 x 12.95 x 13.26 in)

Electrical Specifications

Electrical Ratings

100 to 240 V grounded, 50/60 Hz, 70 W (300 W)

Fuses (2)

4.0 A, 5.0 A, 250 V, Time delay (Fast acting)

Output

Secondary/Data connection only

Protective Earth Terminals

Internal/external marked (internal marked)

Mode of Operation

Continuous

Classifications

Class I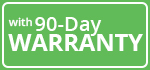 Backed by a 90-Day Warranty - Your instrument works, or we repair, refund, or replace.

Used - A pre-owned and tested product that may show signs of wear.

Flat-Rate Freight with Custom Crate ($580) - The instrument is protected by a custom-built, foam-padded crate.

Payment & Security
Your payment information is processed securely. We do not store credit card details nor have access to your credit card information.
Ask a Question or Request a quote!
Ask a Question or Request a quote!