Description
NEW!! Masterflex 96410-13 L/S 13 Spooled Silicone Tubing Platinum Cured 500 Ft.
New on Spool - Exp. Date: 2023.05.19
Since you have landed on this page then you are looking for reasonably priced lab supplies or equipment. We are competitively priced and guarantee our products.
Not what you are looking for? Check out our store for a much larger selection of laboratory supplies and equipment.
What is shown in the pictures is what you will receive unless further stated. Any tables or racks are not included unless stated otherwise.
Reliable Instrument and Parts Vendor
New Life Scientific is an experienced scientific vendor with a history of positive customer experiences (just check out our reviews!). You can have confidence in our technical evaluations and our warranty knowing that we have actual in-house technicians who inspect, test, service, and repair the various instruments we receive.
Manufacturer

Masterflex

Part Number

96410-13

Dimensions (DxH)
Approx.

10.5 x 8.25 in.


Manufacturer's Specifications
- Tubing formulationSilicone (platinum-cured)
- L/S Masterflex tubing size13
- Hose Barb Size (in)1/16
- Max Flow Rate (mL/min)36
- Max Temperature (Dynamic) (° C)100
- Min Temperature (Dynamic) (° C)-40
- Max Temperature (Dynamic) (° F)212
- Min Temperature (Dynamic) (° F)-40
- Max Temperature (° C)230
- Min Temperature (° C)-50
- Max Temperature (° F)446
- Min Temperature (° F)-58
- Suction Lift (ft H₂O)29
- Suction Lift (m H₂O)8.8
- Length Per Pack (m)152.4
- Sterilization MethodGamma Irradiation
- Sterilization Method GammaYes
- Regulatory ApprovalsFDA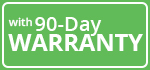 Backed by a 90-Day Warranty - Your instrument works, or we repair, refund, or replace.

New - An unused, unopened product in excellent condition.

Free Parcel Shipping - All parcel (65 lbs and below) items are shipped for free unless the buyer chooses to expedite the shipping.

Payment & Security
Your payment information is processed securely. We do not store credit card details nor have access to your credit card information.