Functional Condition
These instruments perform at manufacturer specifications, having undergone repair or service and sometimes cosmetic refinishing. Often, our work leaves the instrument in better functional condition and expected longevity than other used instruments of the same age. They are in excellent cosmetic condition.

Includes 120 day Warranty

These instruments have been confirmed to perform at manufacturer specifications by NLS technical staff and carry a longer warranty than standard used products. Additional extended warranties may be available for these instruments.

Includes 120 day Warranty

These instruments have undergone various levels of quality testing, some quite limited and others extensive. However, all are guaranteed to perform to manufacturer specifications unless some defect or limitation has been specified. Please pay close attention to the description to understand exactly what you are purchasing.

Includes 90 day Warranty

These instruments are either known to be malfunctioning or not guaranteed to function properly and are suitable for repair or salvaging for parts. They are not protected by a warranty.

Does not include a warranty
Cosmetic Condition
This product could almost be mistaken for being new, having negligible or no cosmetic issues. These issues may include things such as a small scratch or a few small nicks in the exterior. Little can be done to improve the condition level of this product.

This product has the appearance of a typical used product having some minor cosmetic issues and typical wear from use. These issues may include things such as scratches, scuff marks, nicks, a small hairline crack, or shallow dents in the exterior. Fixing these issues would only somewhat improve the condition level of this product, but wouldn't be considered necessary.

This product is clearly used and worn from much use having significant cosmetic issues and wear. These issues may include things such as large sections of paint chipping, scratches, deep scuff marks, dents, discoloration, cracks or stains. Fixing these issues would improve the condition level of this product, but it may be too costly.

This has the appearance of being broken and/or heavily worn from use having serious cosmetic issues and wear. These issues may include things such as huge sections of missing paint, discoloration, caustic erosion, deep dents, large cracks or frame warping. A major overhaul of the cosmetics would be required to fix the issues with this product.
Description
New Brunswick Celligen Plus Bioreactor for Batch/Continuous Cell Culture to Keep Your Legacy System Going
Tested by our NLS tech and backed by our 90-day warranty, this Celligen Plus controller is an easy affordable way to keep your legacy bioreactor system going if your controller went out, or a key step in building an affordable system. Its ready to take the place of an old controller that went kaput.
Verified Working Components - Guaranteed Functionality
Our technician Bart was hands on with this instrument, testing several components and finding them working properly. Although there are some elements that we couldn't test, we guarantee a functional system and consider it our responsibility to repair, replace, or refund should you run into any issues.
The following components/tests were performed:
- Agitation motor control test: PASSED
- Feed pumps tested to spin and stop when prompted: PASSED
- Flow meter solenoid clicks when system powers on: PASSED
The components Bart couldn't test were the cooling water pump and various sensors.
Some physical wear and flaws, but looks arent everything
Unsurprisingly for an instrument of its age, this Celligen Plus does have some visible signs of wear and aging. You'll also notice that part of the front label is torn on the instrument. However, there are no signs of concerning damage, and nothing that should affect the functionality of the instrument.
You Will Receive the Following:
- New Brunswick Cellgen Plus
- Dissolved Oxygen Analyzer
- 2x Dissolved Oxygen Analyzer Guide to Operations (one is M1176-0055/B, the other is M1176-0055/C)
- Rubber tube with clamp
- Power Cable
Requires Probes, Vessel, Tubing, and Motor
This is truly a barebones system, so you'll still need to source probes, a vessel, and a motor. You can check out our Bioreactor section to find various vessels to pair with this system.
| | |
| --- | --- |
| Manufacturer | New Brunswick Scientific |
| Model | Celligen Plus |
| Mfg. No. | M1228-1001 |
| Serial No. | 990223578 |
| Power Requirements | 120V, 50/60Hz, 1Ph, 1200VA |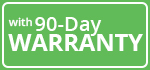 Backed by a 90-Day Warranty - Your instrument works, or we repair, refund, or replace.

Used - A pre-owned and tested product that may show signs of wear.

Flat-Rate Freight ($285) - The instrument is web-wrapped to a pallet with shrink-wrap.

Payment & Security
Your payment information is processed securely. We do not store credit card details nor have access to your credit card information.
Ask a Question or Request a quote!