Description
GE Thermo MultiTemp IV Thermostatic Cooling Circulator Chiller Electrophoresis Guaranteed to Work in Excellent Physical Condition

The GE Thermo MultiTemp IV is a flexible and easy-to-use thermostatic circulator engineered to provide reliable and consistent temperature control to
electrophoretic instruments.
Its ability to interface with several different electrophoretic instruments
(including the Multiphor II, SE 600, SE 600 Ruby, and Ettan DALTsix) allows
the MultiTemp IV to be easily integrated into nearly any electrophoresis
laboratory.
Tested, confirmed 100% functional, and in pristine condition, our MultiTemp IV
is an excellent circulator for the lab on a budget.
Verified to Meet Manufacturer Specs
A New Life Scientific technician tested this machine and confirmed that it is in
perfectly operational. Just as GE Thermo specifies, this MultiTemp IV reaches
-10C with a glycol/water mixture and +5C with only water.
- Intuitive, user-friendly
interface
- Front-panel reservoir for fast, easy access
- User-defined cut-off temperature to prevent overheating
- Compact, space-saving design that will fit on your benchtop
- 3 preset temperatures to increase workflow efficiency
- Quiet (less than 58 dBA) operation for a more peaceful workspace
- Recirculatory design saves not just money, but the environment as well.
Reliable Instrument Vendor
New Life Scientific is an experienced scientific vendor with a history of
positive customer experiences (just check out our eBay reputation!). You
can have confidence in our technical evaluations and our warranty knowing that
we have actual in-house technicians who inspect, test, service, and repair the
various instruments we receive.
After examination and thorough cleaning, products often leave our shop meeting manufacturer specs.
When you buy from New Life Scientific, youre free to contact us at any time for
after-sales support concerning any questions or issues that may arise, even
after your warranty expires.
Support for Instrument Longevity
In addition to our 90-day warranty, we offer you continued support from our
technicians, including technical questions and consulting. We may be able to
offer exchange or back-up units in a pinch.


Manufacturer Specifications
| | |
| --- | --- |
| Manufacturer | GE Thermo |
| Model | MultiTemp IV |
| Model No. | 28994172 |
| Serial No. | 111318015 |
| Year of Mfg. | 2011 |
| Temperature Range | -10C to +80C |
| Temperature Stability | 0.1C |
| Cooling Capacity | 853 BTU |
| Maximum Flow Rate | 17 L/min (4.5 g/min) |
| Maximum Pressure | 300 mbar (4.4 psi) |
| Internal Tank Volume | 2.8 L (0.74 gal) |
| Dimensions (W x D x H) | 22.7 x 45.8 x 58.8 cm (8.9 x 18.03 x 23.15) |
| Power Requirements | 115V, 60Hz, 11.7A, 1345W |
| Weight | 29 kg (63.93 lb) |
New/UnusedFlat-Rate Freight ($285)
- The instrument is web-wrapped to a pallet with shrink-wrap.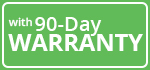 Backed by a 90-day Warranty
- Your instrument works, or we repair, refund, or replace.
Payment & Security
Your payment information is processed securely. We do not store credit card details nor have access to your credit card information.