- SP Scientific Virtis Freezemobile FM35EL-85 Lyophilizer Freeze Dryer
- 20 Port "Tree-Style" Manifold
- Vacuum Pump
- 180-Day Warranty
Manufactured in 2020 and Never Uncrated!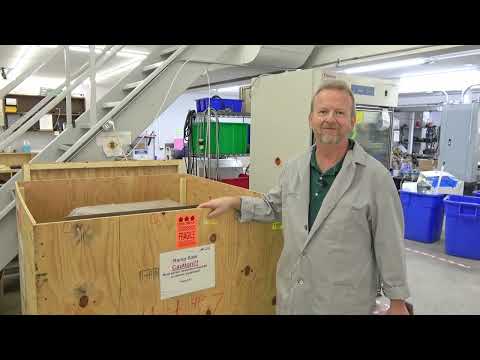 NEW IN BOX - SP Scientific VirTis Freezemobile 35EL Freeze Dryer with 20-Port Tree Manifold
Video will open in a new window
Using the eBay App? Paste link into a browser window:
[isdntekvideo]
With this system still being in the factory crate and original packaging, we did not perform our usual testing prior to offering this product to you. However, we can/will perform our usual quality assurance procedures prior to shipping the product to the end user. The SP Scientific Virtis Freezemobile FM35EL-85 Lyophilizer Freeze Dryer is guaranteed to meet the below manufacturer's specification and is protected by a 180-day warranty.
- Condenser temperature will achieve -85
°C

- Vacuum level will achieve 20mT 
Excerpts From the Manufacturer
The SP Scientific VirTis Freezemobile FM35EL-85 is a high-quality lyophilizer designed for a variety of applications in the pharmaceutical, biotechnology, and food processing industries. With a spacious chamber and advanced features, this lyophilizer offers precise control and reliable performance.
- PLC-based control system with a user-friendly interface
- Precise temperature and vacuum control for optimal lyophilization
- High-performance condenser and refrigeration system for fast and reliable freeze-drying
- Stainless steel construction for easy cleaning and maintenance
- Multiple data logging and alarm features for process monitoring and control
Manufacturer

SP Scientific/VirTis

Model

Freezemobile

Model No.

FM35EL-85

Part No.

100016114

Serial No.

326712

Lowest Condenser Temp. (50 Hz / 60Hz)

-82°C / -85°C

Max. Condenser Capacity

35L

Number of Compressors

2

Compressor Horsepower

1.0, 1.5

Vacuum Time to 100 Millitorr

≤ 20 minutes

Lowest System Vacuum

≤ 15 mT

Refrigerant

CFC-Free

Construction

316L stainless steel condenser chamber

Electrical Specifications

200-240V, 50Hz, 30A

Dimensions (W x D x H)

35 x 26.5 x 70 in (with manifold)

35 x 26.5 x 36 in. (without manifold)
Payment & Security
Your payment information is processed securely. We do not store credit card details nor have access to your credit card information.
READY TO BUY OR SELL USED LAB EQUIPMENT?
We can help. In addition to selling lab equipment, we also purchase it.
Contact us below for immediate service.
Ask a Question or Request a quote!