Description
VirTis 149005 300mL Flat Bottom Flask w/Wide Mouth Filter Seal for Freeze Dryer New in Box - Never Used
Have you been searching for a new replacement 300mL Flask for your VirTis Freeze Dryer? No worries; we have the solution right here. Why spend money on a new assembly when we have what you are looking for at a low affordable price? Save money for other needed parts and accessories.
VirTis Wide Mouth Filter Seal Freeze Drying Flasks are the products of choice when bulk freeze drying samples or performing high-efficiency shell freezing. The unique design is secure and easy-to-use. Made of borosilicate glass with reinforced silicone lids, the entire assembly can be autoclaved. The greaseless snap-on lids are fitted with a conveniently replaceable filter secured by an o-ring to prevent cross-contamination and product flyaway.
- A picture of the equipment it can be used with is shown in the gallery


VirTis Wide Mouth Filter Seal Flasks
- Easy-to-use, easy-to-clean
- Flat bottoms for stand up stability
- Completely autoclavable
- Compatible with all brands of research freeze dryers
- O-ring secured easy-to-replace filter
- Grease-less snap-on silicone top for a leak-proof seal
- Extra-wide mouth for easy filling and sample removal
Safety Coated Wide Mouth Filter Seal Freeze Drying Flasks
- Chemically resistant nylon safety coated borosilicate glass
- Protects lab and personnel from implosion or breakage
- Protects flask from scratches, chipping and impact for longer life
- Completely autoclavable
- Compatible with all brands of research freeze dryers
- Uses the same silicone lids for a leak-proof seal
Reliable Instrument and Parts Vendor
New Life Scientific is an experienced scientific vendor with a history of positive customer experiences (just check out our reviews!). You can have confidence in our technical evaluations and our warranty knowing that we have actual in-house technicians who inspect, test, service, and repair the various instruments we receive.
| | |
| --- | --- |
| Manufacturer | Sp Scientific |
| Part Number | 149005 |
| Volume Capacity | 300mL |
New/Open Box
- An unused product that may or may not include its original packaging.
Free Parcel Shipping
- All parcel (65 lbs and below) items are shipped for free unless the buyer chooses to expedite the shipping.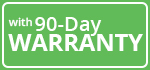 Backed by a 90-day Warranty
- Your instrument works, or we repair, refund, or replace.
Payment & Security
Your payment information is processed securely. We do not store credit card details nor have access to your credit card information.