Functional Condition
These instruments perform at manufacturer specifications, having undergone repair or service and sometimes cosmetic refinishing. Often, our work leaves the instrument in better functional condition and expected longevity than other used instruments of the same age. They are in excellent cosmetic condition.

Includes 120 day Warranty

These instruments have been confirmed to perform at manufacturer specifications by NLS technical staff and carry a longer warranty than standard used products. Additional extended warranties may be available for these instruments.

Includes 120 day Warranty

These instruments have undergone various levels of quality testing, some quite limited and others extensive. However, all are guaranteed to perform to manufacturer specifications unless some defect or limitation has been specified. Please pay close attention to the description to understand exactly what you are purchasing.

Includes 90 day Warranty

These instruments are either known to be malfunctioning or not guaranteed to function properly and are suitable for repair or salvaging for parts. They are not protected by a warranty.

Does not include a warranty
Cosmetic Condition
This product could almost be mistaken for being new, having negligible or no cosmetic issues. These issues may include things such as a small scratch or a few small nicks in the exterior. Little can be done to improve the condition level of this product.

This product has the appearance of a typical used product having some minor cosmetic issues and typical wear from use. These issues may include things such as scratches, scuff marks, nicks, a small hairline crack, or shallow dents in the exterior. Fixing these issues would only somewhat improve the condition level of this product, but wouldn't be considered necessary.

This product is clearly used and worn from much use having significant cosmetic issues and wear. These issues may include things such as large sections of paint chipping, scratches, deep scuff marks, dents, discoloration, cracks or stains. Fixing these issues would improve the condition level of this product, but it may be too costly.

This has the appearance of being broken and/or heavily worn from use having serious cosmetic issues and wear. These issues may include things such as huge sections of missing paint, discoloration, caustic erosion, deep dents, large cracks or frame warping. A major overhaul of the cosmetics would be required to fix the issues with this product.
Description
VirTis Benchtop Pro with Omnitronics Freeze Dryer BTP-9ELEVW: Meets Manufacturer Specifications
This is a turnkey freeze dryer that has been thoroughly inspected, serviced, and tested by our lyophilizer specialist.
Given our careful inspection and service (detailed below), you'll be hard-pressed to find a used freeze dryer that rivals this one in terms of performance, accessories, and price. Our freeze dryer testing and service processes are among the most thorough on the used market.
Additionally, a 120-day warranty and a promise of post-warranty support accompany this freeze dryer. You can buy with confidence knowing that in the slim chance something goes awry, we'll have your back.
Fully Tested -- Reaches -85°C and 20mT
Our freeze dryer specialist personally inspected and tested this unit to ensure it delivers the best possible performance. Here's a summary of his testing:
- Chamber cools to -85°C and holds there:
PASSED
- Chamber holds a 20mT vacuum:
PASSED
- System defrosts efficiently:
PASSED
- Control panel responds to input:
PASSED
- Vacuum brake solenoid (optional accessory) works properly:
PASSED
NOTICE: This freeze dryer will need to be on a 20 amp breaker with nothing else on it.
Manufactured in 2015 and in Excellent Condition
This freeze dryer has very little wear inside and out. The control panel is in especially good condition, featuring a bright, clear screen and responsive buttons. Please review the photos to see more of the cosmetic condition.
- VirTis Benchtop Pro with Omnitronics Freeze Dryer
- 12-Port Vertical Manifold with All Valves
- Edwards E2M2 Rebuilt Vacuum Pump
- Fluid Pump
- x1 Gallon of New Inland-19 Vacuum Pump Oil
- Power Cables
Rebuilt Vacuum Pump with Extended Warranty
This freeze dryer has been outfitted with a rebuilt Edwards E2M2 vacuum pump that pulls a strong 20mT vacuum. This pump carries a 1-year extended warranty, providing you the confidence that you'll be protected in case of breakdown.
From a Professional Dealer to Your Facility
New Life Scientific is an experienced scientific vendor with a history of positive customer experiences. You can have confidence in our technical evaluations and our warranty knowing that we have actual in-house technicians who inspect, test, service, and repair the various instruments we receive.
After examination and thorough cleaning, products often leave our shop meeting manufacturer specs. When you buy from New Life Scientific, you're free to contact us at any time for after-sales support concerning any questions or issues that may arise, even after your warranty expires.
Manufacturer

SP Scientific

Model

VirTis Benchtop Pro with Omnitronics

Model No.

BTP-9ELEVW

Serial No.

320235

Mfg. Date

November 16, 2015

Lowest Condenser Temperature

-82°C at 50Hz
-85°C at 60Hz

Maximum Condenser Capacity

9 Liters

Maximum Ice Condensing Capacity in 24 hours

5 Liters

Maximum Deposition Rate

0.21 Liters/hour

Number of Compressors

2

Compressor Horsepower

1/3, 3/8

Average Vacuum Time to 100 Millitorr

18 Minutes

Lowest System Vacuum

≤20 mT

Approx. Peak Heat Generated with Vacuum Pump

4,500 BTU/h

Power Specifications

100-120VAC, 50/60Hz, 20 Amps, Ph1

Dimensions (W x D x H) (with manifold)

15.5" x 24.5" x 33"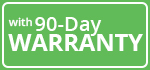 Backed by a 90-Day Warranty - Your instrument works, or we repair, refund, or replace.

Used - A pre-owned and tested product that may show signs of wear.

Flat-Rate Freight with Custom Crate ($580) - The instrument is protected by a custom-built, foam-padded crate.

Payment & Security
Your payment information is processed securely. We do not store credit card details nor have access to your credit card information.
Ask a Question or Request a quote!
Ask a Question or Request a quote!