Description
BD Biosciences Accuri C6 Flow Cytometer with PC & Software
This Accuri C6 flow cytometer fully initializes and had no issues during testing.
In good condition and packaged with a PC loaded with the cytometer's companion software, this used Accuri C6 promises easy and effective flow cytometry while taking up as little bench space as possible.
Fully Initializes and Communicates with Software
Our technical staff confirmed that this cytometer fully initializes and communicates with its software without issue. 
Because we do not have some of the prerequisite consumables, we were unable to test every aspect of this cytometer. As such, we are selling this as guaranteed functional with a 90-day warranty so you're protected in the slim chance it's not fully functional.
In Good Condition -- No Damage and Very Little Wear
Aside from a few signs of usage on the outside and minor spillage under the cover, this Accuri C6 will look great on your bench.
Includes PC, Software, and More
Pre-installed on the included PC is the Accuri C6's companion software. Also packaged with the cytometer is:
    - x4 reservoir containers with liquid level sensors
    - Communication cables for the PC and reservoirs
    - All necessary hoses
    - Power cable
Please note that the end user will need to supply sheath additive, cleaning solution, and setup beads.
From a Professional Dealer to your Lab
New Life Scientific is an experienced scientific vendor with a history of positive customer experiences. You can have confidence in our technical evaluations and our warranty knowing that we have actual in-house technicians who inspect, test, service, and repair the various instruments we receive. 
After examination and thorough cleaning, products often leave our shop meeting manufacturer specs. When you buy from New Life Scientific, you're free to contact us at any time for after-sales support concerning any questions or issues that may arise, even after your warranty expires.
Manufacturer

BD Biosciences

Model

Accuri C6

Serial No.

1902

Mfg. Date

January 2008

Laser Excitation

488 nm (rated at 20,000 hr life)

640 nm (rated at 20,000 hr life)

Laser Profile

10 x 75  µm

Laser Power

14.7 mW 640 nm Diode Red Laser

20 mW 488 nm Solid State Blue Laser

Scatter Detection

Forward (0 degrees, +/-13)

Side (90 degrees, +/-13)

Emission Detection

4 colors, standard optical filters

FL1 533/30 nm (e.g. FITC/GFP)

FL2 585/40 nm (e.g. PE/PI)

FL3 > 670 nm (e.g. PerCP, PerCP-CyTM5.5, PE-Cy7)

FL4 675/25 nm (e.g. APC)

Optical Alignment

Fixed alignment

Flow Cell

200 µm ID quartz capillary

Minimum Detectable Particle

Size

0.5 µm

Minimum Sample Volume

300 µL (in 12 x 75 mm tube)

Pre-Set Flow Rates and Core

Sizes

Slow: 14 µL/min, 10 µm core

Medium: 35 µL/min, 16 µm core

Fast: 66 µL/min, 22 µm core

Custom Sample Flow Rates

10 - 100 µL/min

Custom Core Diameter

5 - 40 µm

Recommended Sheath Fluid

0.22 µm filtered, deionized (DI) water

Maximum Events Per Sample

1 million events per well

Florescence Sensitivity,

MESF*

FITC < 150; PE < 100

Scatter Resolution

Resolves human peripheral blood lymphocytes,

monocytes, and granulocytes

Fluorescence Linearity

2 ± 0.05% for chick erythrocyte nuclei (CEN)

Fluorescence Precision

≤ 3% CV for CEN

Data Acquisition Rate

10,000 events/second, maximum

Power Requirements

100-240 VAC, 50/60 Hz

Typical Power Consumption

154 VA

Heat Output

240 Btu/hour maximum output

Operating Ranges

15-30° C; < 80% relative humidity

Instrument Size

11" H x 14.75" W x 16.5" D (27.9 x 37.5 x 41.9 cm)

Foot Print with Fluid Bottles

11" H x 21.5" W x 16.5" D (27.9 x 54.6 x 41.9 cm)

Weight

30 lbs (13.6 kg)

Fluid bottle capacity

2 L sheath fluid, 2 L waste,

250 mL cleaner, 250 mL decontamination

Signal Processing

24-bit datapath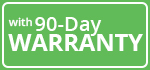 Backed by a 90-Day Warranty - Your instrument works, or we repair, refund, or replace.

Used - A pre-owned and tested product that may show signs of wear.

Flat-Rate Freight with Custom Crate ($380) - The instrument is protected by a custom-built, foam-padded crate.

Payment & Security
Your payment information is processed securely. We do not store credit card details nor have access to your credit card information.