Description
Beckman Coulter Allegra 25R Refrigerated Benchtop Centrifuge in Fair Condition
Every week here at the New Life Scientific tech shop, we are inspecting, testing, and servicing benchtop centrifuges such as this Allegra 25R, offering you a wide variety of used centrifuges with a clear understanding of their condition and functionality. You can buy with the assurance that this centrifuge has been tested and that you'll know exactly what you're getting.
Our technician inspected and tested this centrifuge for several hours, confirming it to reach 5,100 rpm. However, the unit does not reach the manufacturer's cooling specification -- it holds at +10°C.
This centrifuge has a maximum speed of 15,000 rpm when paired with a compatible fixed-angle rotor.
You Will Receive The Following:
- Beckman Coulter Allegra 25R Centrifuge
- Attached Power Cable
Manufactured in 2010 -- Rotor Chamber in Fair Condition
While the centrifuge exterior is in good condition, the chamber has seen better days. Several dents afflict the chamber's wall, which is restricting the tubing behind it and inhibiting its refrigeration capabilities. The underside of the lid also has some damage, but function is unaffected.
Nonetheless, this unit could be an excellent, affordable option for a lab that doesn't need to chill samples down very far.
Inspected and Tested by Centrifuge Specialist
Our technician thoroughly inspected and tested this centrifuge, running it at 5,100 rpm for several hours. The refrigeration held at +10°C during operation.
All settings, control panel, display, and door lock have been tested and verified fully functional with no unusual noise during operation. This centrifuge is configured for 208V power. Additionally, the gas springs work very well.
The following tests were performed:
- Tested centrifuge to 5,100 rpm:
PASSED
- Refrigeration reached manufacturer spec:
FAILED
- Tested all control panel buttons:
PASSED
- Tested accel and decel:
PASSED
- Tested door lock:
PASSED
Compatible Rotors Available Separately
We currently have a S5700 microplate rotor in stock. Should you like to add a rotor to your order, please contact us.
From an Experienced Centrifuge Dealer to your Lab
New Life Scientific is no stranger to centrifuges. Over the past four years, we have dealt in and worked on a wide variety of benchtop and floor centrifuges from the top manufacturers, including Eppendorf, Beckman, and Sorvall/Thermo.
You can have confidence in our technical evaluations and our warranty knowing that we have actual in-house technicians who inspect, test, service, and repair centrifuges. After their examinations and being cleaned inside and out, they often leave our shop meeting manufacturer specs.
When you buy from us, you're not just buying a centrifuge. You also gain a resource for after-sales support for keeping your centrifuge running, even after your warranty expires.
Manufacturer

Beckman Coulter

Model

Allegra 25R

Cat. No.

369434

Serial No.

AJC10C003

Mfg. Date

March 10, 2010

Max Capacity

4x 500 mL

Maximum Speed

15,000 rpm (fixed angle)
5,700 (swinging bucket)

Maximum g-Force

25,160 x g (fixed angle)
5,530 x g (swinging bucket)

Set Speed

to 15,000 rpm in 100-rpm increments

Set Temperature

-20 to +40°C in 1° increments

Set Time

to 9 hours 59 min or continuous (hold)

Acceleration

10 profiles

Deceleration

10 profiles

Power Requirements

208 V, 16 A, 60 Hz

Dimensions (W x D x H)

25.5 x 27 x 16 in

Weight

124.0 kg (273.4 lb)
Allegra 25R Compatible Rotors
Rotor Model

Rotor Selection Code

Max RPM

Max RCF (xg)

No. of Tubes x Nominal Capacity

Rotor Manual Number

TA-15-1.5 Fixed Angle

A-15

15000

25160

30 x 1.5/2.0 mL

BS-TB-002

TA-10-250 Fixed Angle

A-10

10000

15300

6 x 250 mL

BS-TB-003

TA-14-50 Fixed Angle

A-14

14000

21100

8 x 50 mL

BS-TB-004

TS-5.1-500 Horizontal

S-5.1
BUC5
PLA

-
5700
4100

-
5530
3000

-
4 x 500 mL
4 x 96 mL

BS-TB-005

S5700 Swinging Bucket

S-57

5700

6130

2 x 480mL

BS-TB-006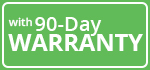 Backed by a 90-Day Warranty - Your instrument works, or we repair, refund, or replace.

Used - A pre-owned and tested product that may show signs of wear.

Flat-Rate Freight ($285) - The instrument is web-wrapped to a pallet with shrink-wrap.

Payment & Security
Your payment information is processed securely. We do not store credit card details nor have access to your credit card information.