Functional Condition
These instruments perform at manufacturer specifications, having undergone repair or service and sometimes cosmetic refinishing. Often, our work leaves the instrument in better functional condition and expected longevity than other used instruments of the same age. They are in excellent cosmetic condition.

Includes 120 day Warranty

These instruments have been confirmed to perform at manufacturer specifications by NLS technical staff and carry a longer warranty than standard used products. Additional extended warranties may be available for these instruments.

Includes 120 day Warranty

These instruments have undergone various levels of quality testing, some quite limited and others extensive. However, all are guaranteed to perform to manufacturer specifications unless some defect or limitation has been specified. Please pay close attention to the description to understand exactly what you are purchasing.

Includes 90 day Warranty

These instruments are either known to be malfunctioning or not guaranteed to function properly and are suitable for repair or salvaging for parts. They are not protected by a warranty.

Does not include a warranty
Cosmetic Condition
This product could almost be mistaken for being new, having negligible or no cosmetic issues. These issues may include things such as a small scratch or a few small nicks in the exterior. Little can be done to improve the condition level of this product.

This product has the appearance of a typical used product having some minor cosmetic issues and typical wear from use. These issues may include things such as scratches, scuff marks, nicks, a small hairline crack, or shallow dents in the exterior. Fixing these issues would only somewhat improve the condition level of this product, but wouldn't be considered necessary.

This product is clearly used and worn from much use having significant cosmetic issues and wear. These issues may include things such as large sections of paint chipping, scratches, deep scuff marks, dents, discoloration, cracks or stains. Fixing these issues would improve the condition level of this product, but it may be too costly.

This has the appearance of being broken and/or heavily worn from use having serious cosmetic issues and wear. These issues may include things such as huge sections of missing paint, discoloration, caustic erosion, deep dents, large cracks or frame warping. A major overhaul of the cosmetics would be required to fix the issues with this product.
Description
Beckman Coulter Biomek NXp Automated Liquid Handler in Good Condition with PC and Software
A liquid handler designed for medium- to high-throughput laboratories, the Biomek NXp offers flexible performance in a compact design that will save space on your bench.
Used, tested, and in good physical condition, this Biomek NXp can deliver an outstanding ROI for your lab. Plus, the open design of this system allows you to add or remove deckware as your needs change over time.
Successful Software Communication & Plate Movement -- "Works Great!", Technician Notes
Although we were unable to fully test this instrument's full capabilities due to not having the required software, we were able to perform the following tests:
- NXp initializes and communicates with core Biomek software:
PASSED
- Home all of the motors:
PASSED
- Prime syringe pumps:
PASSED
- Lift/move microplates:
PASSED
- Create/edit/remove programs:
PASSED
Given these results, we are confident that this instrument will communicate with its full program and function well. No mechanical or communication issues were found at any point. In fact, our technician oiled the unit to ensure the mechanics would work smoothly for you.
Aside from some typical signs of wear from use, this NXp has been maintained quite well and bears few cosmetic issues. Please see the photos for more details.
- Biomek NXp Automated Liquid Handler
-

Span-8 pipettor and Gripper
-

PC with Biomek Software v3.3
-

Wash and Waste station
-

AccuFrame ALP Framing Tool
-

Deck platform
- Power cable
Note: Although this workstation comes with all the deckware shown in the photos, you may need other pieces to meet the needs of your desired applications. Those pieces will need to be acquired separately.
Consumables are required for this system to be used in production. You will need to acquire the consumables separately. Consumables can generally be purchased from the manufacturer website or a third party dealer.
From a Professional Dealer to your Facility
New Life Scientific is an experienced scientific vendor with a history of positive customer experiences. You can have confidence in our technical evaluations and our warranty knowing that we have actual in-house technicians who inspect, test, service, and repair the various instruments we receive.
After examination and thorough cleaning, products often leave our shop meeting manufacturer specs. When you buy from New Life Scientific, you're free to contact us at any time for after-sales support concerning any questions or issues that may arise, even after your warranty expires.
Manufacturer

Beckman Coulter

Model

Biomek NXp

Catalog No.

A31840

Serial No.

A318400597

Environment

Indoor use only

Compressed Air Requirements

NX-MC: Requires compressed air

NX-S8: Only Span-8 instruments that use a Microplate Shaking ALP require compressed air

Air Pressure: 60 - 100 psi of compressed air
414 - 690 kPa of compressed air
Air Flow: 2.25 cfm @ 60 psi 0.064 m3/min @ 414 kPa

System Fluid Requirements

NX-S8: Requires system fluid

De-ionized or Distilled water
System fluid ambient operating temperature is 59°–86°F (15°–30°C).
System fluid should be degassed for 24 hours prior to use.

Weight

190 labs. (86.2 kg)

Ambient Operating Temperature

41°-86°F (5°-30°C)

Humidity Restrictions

<85% (non-condensing) @ 86°F (30°C)

Altitude Restrictions

up to 6562 ft (2000 m)

Installation Category

Category II

Pollution Degree

2

Sound Pressure Level

Maximum sound pressure: 82 dB
Maximum sound pressure at 1 meter away: 75 dB

Fuses

US: 250 VAC, 3.15 amp, 5x20 mm, Slow-blow, UL recognized, CSA certified
Europe: 250 VAC, 3.15 amp, 5x20 mm, Slow-blow, CENELEC approved

Communications to Host

RS-232 port

Communications to Tip Loader

CAN

Communications to Active ALPs via the Biomex NXp Instrument

CAN

Power Requirements

100-240V, 4A, 50/60Hz

Overall Dimensions (WxDxH)

35 x 30 x 42"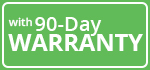 Backed by a 90-Day Warranty - Your instrument works, or we repair, refund, or replace.

Used - A pre-owned and tested product that may show signs of wear.

Flat-Rate Freight with Custom Crate ($580) - The instrument is protected by a custom-built, foam-padded crate.

Payment & Security
Your payment information is processed securely. We do not store credit card details nor have access to your credit card information.
Ask a Question or Request a quote!