Description
Beckman Optima XL-90 Ultracentrifuge in Good Condition - Inspected, Tested, and Ready for Operation
This Beckman Optima XL-90 Ultracentrifuge has been thoroughly inspected and tested by our technician who specializes in centrifuges. We tested this floor centrifuge to 80,000 rpm with vacuum holding 0 microns and refrigeration working properly. Everything has been confirmed fully-functional except the printer, which we can fix if you would like to make use of it.
This ultracentrifuge has a maximum speed specification of 90,000 rpm, but you will need a rotor rated for that speed if you wish to process samples at this maximum rpm. Also, this centrifuge is configured for 208V.
Want to add a rotor to your XL-90?
This centrifuge doesnt come with a rotor, but we have plenty of compatible rotors in stock so please dont hesitate to contact us about adding a rotor to your purchase.
Good Condition with a Nice Rotor Chamber
This ultracentrifuge has been inspected and cleaned to give you the best appearance possible from this pre-owned floor centrifuge. There are some scuffs and stains on the exterior, but it shines where it counts and thats in the rotor chamber where its in quite good condition.
Excellent Performance - Tested by Technician to 80,000 RPM
Thoroughly inspected and tested by our resident centrifuge specialist, this centrifuge was tested to 80,000 rpm without issue. Also, the refrigeration, vacuum, all settings, control panel buttons, display screen, and door lock have been tested. The chamber door seal and rail were cleaned during inspection.
We were able to test this ultracentrifuge to 80,000 rpm, very close to its maximum speed specification of 90,000 rpm, and we have no doubt it will reach its maximum speed. You will need a rotor rated for 90,000 rpm to process samples at that speed. This centrifuge is configured for 208V power.

The following tests were performed:
- Tested centrifuge to 80,000 rpm: PASSED
- Tested refrigeration: PASSED
- Tested vacuum to 0 microns: PASSED
- Tested control panel and display: PASSED
- Tested accel & decel profiles: PASSED
- Tested door lock: PASSED
From an Experienced Centrifuge Dealer to your Lab
New Life Scientific is no stranger to centrifuges. Over the past four years we have dealt in and worked on a wide variety of benchtop and floor centrifuges from the top manufacturers, including Eppendorf, Beckman, and Sorvall/Thermo.
You can have confidence in our technical evaluations and our warranty knowing that we have actual in-house technicians who inspect, test, service, and repair centrifuges. After their examinations and being cleaned inside and out, they often leave our shop meeting manufacturer specs.
When you buy from us, youre not just buying a centrifuge. You also gain a resource for after-sales support for any questions or issues that may arise, even after your warranty expires.
| | |
| --- | --- |
| Manufacturer | Beckman |
| Mfg. Date | 1991 |
| Model | XL-90 |
| Cat. No. | 355896 |
| Serial No. | X1L906 |
| Maximum Speed | 90,000 rpm |
| Speed Control | 20 rpm |
| User Programs | 9 |
| Drive | Air Cooled |
| Temperature Range | 0C to 40C with 1C increments |
| Temperature Control | 0.5C of set |
| Ambient Operating Range | 15C to 40C |
| Voltage | 200-240 V, 50/60 Hz, 20 A |
| Dimensions (W x D x H) | 37 x 26.5 x 47.75 in |
| Weight | 465 kg (1,025 lb) |
Used
- A pre-owned and tested instrument that may show signs of wear
Flat-Rate Freight ($285)
- The instrument is web-wrapped to a pallet with shrink-wrap.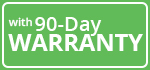 Backed by a 90-day Warranty
- Your instrument works, or we repair, refund, or replace.
Payment & Security
Your payment information is processed securely. We do not store credit card details nor have access to your credit card information.