Functional Condition
These instruments perform at manufacturer specifications, having undergone repair or service and sometimes cosmetic refinishing. Often, our work leaves the instrument in better functional condition and expected longevity than other used instruments of the same age. They are in excellent cosmetic condition.

Includes 120 day Warranty

These instruments have been confirmed to perform at manufacturer specifications by NLS technical staff and carry a longer warranty than standard used products. Additional extended warranties may be available for these instruments.

Includes 120 day Warranty

These instruments have undergone various levels of quality testing, some quite limited and others extensive. However, all are guaranteed to perform to manufacturer specifications unless some defect or limitation has been specified. Please pay close attention to the description to understand exactly what you are purchasing.

Includes 90 day Warranty

These instruments are either known to be malfunctioning or not guaranteed to function properly and are suitable for repair or salvaging for parts. They are not protected by a warranty.

Does not include a warranty
Cosmetic Condition
This product could almost be mistaken for being new, having negligible or no cosmetic issues. These issues may include things such as a small scratch or a few small nicks in the exterior. Little can be done to improve the condition level of this product.

This product has the appearance of a typical used product having some minor cosmetic issues and typical wear from use. These issues may include things such as scratches, scuff marks, nicks, a small hairline crack, or shallow dents in the exterior. Fixing these issues would only somewhat improve the condition level of this product, but wouldn't be considered necessary.

This product is clearly used and worn from much use having significant cosmetic issues and wear. These issues may include things such as large sections of paint chipping, scratches, deep scuff marks, dents, discoloration, cracks or stains. Fixing these issues would improve the condition level of this product, but it may be too costly.

This has the appearance of being broken and/or heavily worn from use having serious cosmetic issues and wear. These issues may include things such as huge sections of missing paint, discoloration, caustic erosion, deep dents, large cracks or frame warping. A major overhaul of the cosmetics would be required to fix the issues with this product.
Description
Buchi Rotavapor R-205 Rotary Evaporator & V-800 Vacuum Controller in Good Condition with Glassware
This Buchi rotary evaporator has been fully tested by our technical staff and confirmed to work without issue. It's in good condition and is, like all of our working products, backed by a 90-day warranty.
Included with this product is a V-800 vacuum controller, power cable, condenser, evaporation flask, collection flask, and 29/42 clamp. All you'll need is a Buchi B-490 heating bath and a vacuum pump.
Smooth Spinning, Responsive Controls -- Successful Testing All Around
After its cleaning and inspection, our technical staff tested as much of the evaporator as possible with the following results:
- Displays function properly, all controls respond to input
- Evaporation flask spins right at the set speed
- Unit raises and lowers smoothly, save for a mild squeaking sound
- Vacuum controller displayed a strong 17mbar pull (vacuum pump not included)
Inspected and In Good Condition
Aside from the typical wear that accompanies used equipment, this R-205 has been maintained well by its previous owners and remains in quite good condition as a result. Please review the photos for more details.
- Buchi R-205 Rotavapor
- V-800 Vacuum Controller
- Condenser & lid
- Evaporation flask with 29/42 clamp
- Collection flask with 35/20 clamp
- Power cable
The end user will need to supply a water bath, vacuum pump, cold finger, and seal.
From a Professional Dealer to Your Facility
New Life Scientific is an experienced scientific vendor with a history of positive customer experiences. You can have confidence in our technical evaluations and our warranty knowing that we have actual in-house technicians who inspect, test, service, and repair the various instruments we receive.
After examination and thorough cleaning, products often leave our shop meeting manufacturer specs. When you buy from New Life Scientific, you're free to contact us at any time for after-sales support concerning any questions or issues that may arise, even after your warranty expires.
Manufacturer

Buchi

Model

Rotavapor R-205

Type of apparatus

Rotavapor with display

Fabr. No.

412733090030

Glass assembly

A,C,V,S,E,CR

Weight

16 - 18 kg
Depending on glass assembly

Supply Voltage

100, 120, 230 V +/- 10%

Mains connection

3-pole (P,N,E) via power cable

Frequency

50/60Hz

Power Consumption

120W

Installation/overvoltage category

II

Contamination degree

2

Rotation speed range

20-280 rpm

Maximum size of flask

3 lt (max. 3 kg)

Display

Vapour temp./rotation

Accuracy of measured temperature

20°C to 100°C
100°C to 180°C

Environmental temperature

10°C up to 35°C

Environmental conditions

for indoor use only, maximum relative humidity 80% for temperatures up to 30°C

Maximum height

2000 m above sea level

Pressure of the condensing coil

max. 2 bar abs.
pulsation free

Dimensions (W x D x H)

20.5" x 14" x 28"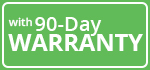 Backed by a 90-Day Warranty - Your instrument works, or we repair, refund, or replace.

Used - A pre-owned and tested product that may show signs of wear.

Two Box Shipments/Calculated Freight - This shipping method requires a custom quote. Please contact us for one.
Payment & Security
Your payment information is processed securely. We do not store credit card details nor have access to your credit card information.
Ask a Question or Request a quote!
Ask a Question or Request a quote!