Description
CEM Discover-S Microwave Digestion System & Explorer 48 Autosampler -- Turnkey System with Laptop & Software
Fully tested and working, this microwave digestion system is ready for your lab and requires only consumables and an air supply.
We adjusted, fine-tuned, and tested this digester to ensure that it delivers optimal performance for each and every run. With its 90-day warranty and verified functionality, the CEM Discover and Explorer can become assets to your lab.
Fine-Tuned and Fully Tested -- "Everything Ran Perfectly," Technician Says
After its initial cleaning and visual inspection, our senior technician adjusted the Explorer's belt drive and then recalibrated it with the desktop software. By the end of his work, the Discover-S and the Explorer flawlessly handled sample tubes automatically.
- Loaded/returned attenuator adapter:
PASSED
- Loaded/unloaded 10mL tubes from front, back, and middle tube racks:
PASSED
- Ran 6+ runs, heated water to 100°C in 30 seconds:
PASSED
- PC and Discover display show correct temperature and pressure:
PASSED
- Unit cooled down tubes to set "release" point before advancing:
PASSED
In Fair Cosmetic Condition
This system has its fair share of cosmetic flaws. There is cracking in the plastic sample racks and a significant scuff on the Discover-S, along with staining and scratching on its display. Regardless, this system still runs very well and performance is not affected by these blemishes.
Walk-Away Processing That Saves You Time
Supporting custom routines with user-defined parameters, the Discover-S and Explorer 48 enable you to simply load your samples, hit "Run", and focus on the work that deserves your full focus.
This System Includes the Following:
-

CEM Discover-S
-

CEM Explorer 48 with 4 Sample Racks
-

Laptop with Synergy software installed
-

2x Ethernet cables
-

Power Adapter
-

Power Cabling
From a Professional Dealer to your Lab
New Life Scientific is an experienced scientific vendor with a history of positive customer experiences. You can have confidence in our technical evaluations and our warranty knowing that we have actual in-house technicians who inspect, test, service, and repair the various instruments we receive.
After examination and thorough cleaning, products often leave our shop meeting manufacturer specs. When you buy from New Life Scientific, you're free to contact us at any time for after-sales support concerning any questions or issues that may arise, even after your warranty expires.
| | |
| --- | --- |
| Manufacturer | CEM |
| Model | Discover-S |
| Model No. | 908850 |
| Serial No. | DC5160 |
| Mfg. Year | 2008 |
| Power Specifications | 90/140 VAC, 7.3A, 50/60 Hz, 725W |
| Mag. Frequency | 2455MHz |
| Max. Microwave Power | 300 W |
| Product Tag | 2115160 |
| Dimensions (with Explorer 48) (W x D x H) | 16.25" x 19" x 32" |
| | |
| --- | --- |
| Manufacturer | CEM |
| Model | Explorer 48 |
| Model No. | 909480 |
| Serial No. | XS1072 |
| Mfg. Year | 2008 |
| Power Specifications | 90/240VAC, 1A, 50/60Hz, 100W |
| Product Tag | 210 1072 |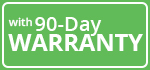 Backed by a 90-Day Warranty - Your instrument works, or we repair, refund, or replace.

Used - A pre-owned and tested product that may show signs of wear.

Flat-Rate Freight ($285) - The instrument is web-wrapped to a pallet with shrink-wrap.

Payment & Security
Your payment information is processed securely. We do not store credit card details nor have access to your credit card information.