Functional Condition
These instruments perform at manufacturer specifications, having undergone repair or service and sometimes cosmetic refinishing. Often, our work leaves the instrument in better functional condition and expected longevity than other used instruments of the same age. They are in excellent cosmetic condition.

Includes 120 day Warranty

These instruments have been confirmed to perform at manufacturer specifications by NLS technical staff and carry a longer warranty than standard used products. Additional extended warranties may be available for these instruments.

Includes 120 day Warranty

These instruments have undergone various levels of quality testing, some quite limited and others extensive. However, all are guaranteed to perform to manufacturer specifications unless some defect or limitation has been specified. Please pay close attention to the description to understand exactly what you are purchasing.

Includes 90 day Warranty

These instruments are either known to be malfunctioning or not guaranteed to function properly and are suitable for repair or salvaging for parts. They are not protected by a warranty.

Does not include a warranty
Cosmetic Condition
This product could almost be mistaken for being new, having negligible or no cosmetic issues. These issues may include things such as a small scratch or a few small nicks in the exterior. Little can be done to improve the condition level of this product.

This product has the appearance of a typical used product having some minor cosmetic issues and typical wear from use. These issues may include things such as scratches, scuff marks, nicks, a small hairline crack, or shallow dents in the exterior. Fixing these issues would only somewhat improve the condition level of this product, but wouldn't be considered necessary.

This product is clearly used and worn from much use having significant cosmetic issues and wear. These issues may include things such as large sections of paint chipping, scratches, deep scuff marks, dents, discoloration, cracks or stains. Fixing these issues would improve the condition level of this product, but it may be too costly.

This has the appearance of being broken and/or heavily worn from use having serious cosmetic issues and wear. These issues may include things such as huge sections of missing paint, discoloration, caustic erosion, deep dents, large cracks or frame warping. A major overhaul of the cosmetics would be required to fix the issues with this product.
Description
Fully Functional Unidirectional Glove Box - Complete Turnkey System
This Containment Technologies Group MIC Single mobile glove box, a guaranteed
fully-functional turnkey system, is a versatile unidirectional isolation chamber
in excellent cosmetic condition.
Packaged with everything needed for usage, this glove box will prove to be an
asset to any lab with diverse sample isolation needs.
Full Functionality, Guaranteed
Our technician ensured that the light and blower both operate without issue.
The pressure is strong and consistent, proving that the chambers structural
integrity has not been compromised in any way.
This particular systems blower happens to be a more robust, non-standard model.
We are confident that youll get years of use out of this souped-up machine.
You can rest assured knowing that this chamber will operate flawlessly. If there
is any failure, however, this product is backed by a 90 day warranty.
Yin & Yang: Positive & Negative Pressure Supported
The MIC Single can be configured to use either positive or negative pressures,
thus allowing you to use one system for a wider variety of applications than
competing chambers.
No need to buy two single-use chambers -- this MIC Single will save you both
money and that precious lab space.
Turn-key System: Ready for Use On Arrival
This MIC Single comes packaged with every external component required for
use, including the sleeves, waste containers, and a height-adjustable table.
If youd prefer, we can omit the table and save you money on shipping fees.
Give us a call at 567-221-0615 to make the request before you buy.
Supports Vaporized Hydrogen Peroxide Decontamination
In the words of the manufacturer, this MIC Single is fully compatible with the
next generation of Advanced Aseptic Compounding. Order now and ensure the
purity of your samples.
90-Day Warranty for your Peace of Mind
Buying pre-owned can be unnerving. We realize you want assurance in your
purchase, so we include a 90-day warranty on our equipment. If anything goes
wrong, our in-house support is only a phone-call away.
Support for Instrument Longevity - In addition to our 90-day warranty,
we offer you continued support from our technicians, including technical
questions and consulting.
We may be able to offer exchange or back-up units in a pinch.
Trusted Instrument Vendor
New Life Scientific is an experienced scientific vendor with a history of positive
customer experiences (just check out our eBay reputation!). You can have
confidence in our technical evaluations and our warranty knowing that we have
actual in-house technicians who inspect, test, service, and repair the various
instruments we receive.
After examination and thorough cleaning, products often leave our shop meeting manufacturer specs.
When you buy from New Life Scientific, youre free to contact us at any time for
after-sales support concerning any questions or issues that may arise, even
after your warranty expires.
Manufacturer Specifications
Manufacturer

Containment Technologies Group

Model No.

MIC Single R/AL

Serial No.

0914-EMPA-917

Electrical Requirements

120V, 60Hz, 10A, Phase 1

Dimensions (W x D x H)

Overall: 58 x 25 x 84 (147.3 x 63.5 x 213.4 cm)




Glove box: 58 x 25 x 49.5 (147.3 x 63.5 x 125.7 cm)




Table: 39.25 x 21.5 x 34.5 (99.7 x 54.6 x 87.6 cm)
Used
- A pre-owned and tested instrument that may show signs of wear
Oversize Freight ($380)
- Reserved for products exceeding 43" in length and 43" in width.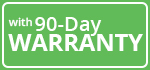 Backed by a 90-day Warranty
- Your instrument works, or we repair, refund, or replace.
Payment & Security
Your payment information is processed securely. We do not store credit card details nor have access to your credit card information.
Ask a Question or Request a quote!