Description
Dynex DSX 4-Plate ELISA Processing System with PC and Revelation DSX Software Installed
Working System in Fair Condition
Renowned for its innovation and reliability, the Dynex DSX is well-known in the laboratory world. Even pre-owned models can still fetch a hefty sum. However, buying a used unit can be risky -- one must ask, "how long can I expect this instrument to work?"
We here at New Life Scientific understand that, so we strive to negate that worry by testing every aspect of our instruments several times over. When we ship a product, we're not just confident in its functionality -- we're confident in its long-term functionality.
We've included a PC with the Revelation DSX software installed so you can begin using this system without delay.
Smooth Performance, but in Fair Cosmetic Condition
Everything works well and movement of the module doors, eject functions, and robotic arm is nice 'n smooth, however, there are a few cosmetic issues.
We repaired and reinforced a cracked right side door panel. There is also a small nick in the 'C' wash bottle sensor wire, but the connection is still good. And there is some minor rusting below the wash and waste bottles.
Tested by Technician and Passes All Self-Diagnostics
Our technician inspected this DSX system, running self-diagnostics without error and testing to confirm all components functional. He moved plates from every drawer to every module at least ten times, washed plates, and picked up and disposed of tips. "Everything is spot on," he remarked.
Our tech also ran the plate reader self-test and the incubator self-test, both of which passed.
The following tests were performed and PASSED:
- Passed all self-diagnostic tests
- Absorbance module tested
- Incubator module tested
- Tested full range of movement of the robotic arm
- Pickup up pipette tip and ejected to waste container
- Moved plate to and from every module, including the ambient drawer, incubator, absorbance, and wash station
- Loaded fluid in wash buffer bottles, successfully testing all jets and aspiration nozzles
Ready for your Lab with PC and Software
This DSX comes complete with all the principal hardware components, including the robotic arm, 2 incubators, absorbance reader, washer, ambient drawer, barcode readers, tip disposal container, and waste and wash buffer bottles with sensors.
This system does not come with sample racks or consumables. You will need to acquire those separately.
You Will Receive the Following:
- Dynex DSX Automated ELISA System
- PC with Monitor, Keyboard & Mouse (Revelation DSX installed)
- Door Lock Bypass Key
- Serial Cable
- 3x Power Cable
From a Professional Dealer to your Lab
New Life Scientific is an experienced scientific vendor with a history of positive customer experiences. You can have confidence in our technical evaluations and our warranty knowing that we have actual in-house technicians who inspect, test, service, and repair the various instruments we receive.
After examination and thorough cleaning, products often leave our shop meeting manufacturer specs. When you buy from New Life Scientific, you're free to contact us at any time for after-sales support concerning any questions or issues that may arise, even after your warranty expires.
Manufacturer

Dynex Technologies

Mfg. Year

2009

Model

Dynex DSX

Serial No.

1DXC2045

Sample Capacity

96 samples (98 positions are available)

Reagents Capacity

24

Controls and/or Standards

33

Sample Pipetting Tips

432

Reagent Pipetting Tips

41

Wash Buffer Bottles

4 bottles, 2 liters each

Waste Container

8 liters

Ambient Drawer Module Incubation Temperatures

Ambient plus 5°C

Incubator Module Incubation Temperatures

Ambient plus 7°C to 50°C

Blanking

Air
Individual, paired or average wells
Whole plate or last plate
Row or column
Each well on the plate

Wavelength Modes

Single, dual or multiple

Standard Curves

Linear, quadratic, cubic, quartic, spline, polygon, sigmoid or Akima

Additional Data Analysis

Threshold, ratio, spreadsheet and QC equations

Flexible Template

Up to eight different well types.

Software

Revelation DSX v6.21

Power Requirements

100-240V, 50/60Hz, <800VA

Dimensions (W x D x H)

42 x 36 x 32 in

Weight

136 kg (300 lbs)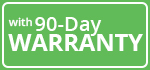 Backed by a 90-Day Warranty - Your instrument works, or we repair, refund, or replace.

Used - A pre-owned and tested product that may show signs of wear.

Flat-Rate Freight with Custom Crate ($380) - The instrument is protected by a custom-built, foam-padded crate.

Payment & Security
Your payment information is processed securely. We do not store credit card details nor have access to your credit card information.