Functional Condition
These instruments perform at manufacturer specifications, having undergone repair or service and sometimes cosmetic refinishing. Often, our work leaves the instrument in better functional condition and expected longevity than other used instruments of the same age. They are in excellent cosmetic condition.

Includes 120 day Warranty

These instruments have been confirmed to perform at manufacturer specifications by NLS technical staff and carry a longer warranty than standard used products. Additional extended warranties may be available for these instruments.

Includes 120 day Warranty

These instruments have undergone various levels of quality testing, some quite limited and others extensive. However, all are guaranteed to perform to manufacturer specifications unless some defect or limitation has been specified. Please pay close attention to the description to understand exactly what you are purchasing.

Includes 90 day Warranty

These instruments are either known to be malfunctioning or not guaranteed to function properly and are suitable for repair or salvaging for parts. They are not protected by a warranty.

Does not include a warranty
Cosmetic Condition
This product could almost be mistaken for being new, having negligible or no cosmetic issues. These issues may include things such as a small scratch or a few small nicks in the exterior. Little can be done to improve the condition level of this product.

This product has the appearance of a typical used product having some minor cosmetic issues and typical wear from use. These issues may include things such as scratches, scuff marks, nicks, a small hairline crack, or shallow dents in the exterior. Fixing these issues would only somewhat improve the condition level of this product, but wouldn't be considered necessary.

This product is clearly used and worn from much use having significant cosmetic issues and wear. These issues may include things such as large sections of paint chipping, scratches, deep scuff marks, dents, discoloration, cracks or stains. Fixing these issues would improve the condition level of this product, but it may be too costly.

This has the appearance of being broken and/or heavily worn from use having serious cosmetic issues and wear. These issues may include things such as huge sections of missing paint, discoloration, caustic erosion, deep dents, large cracks or frame warping. A major overhaul of the cosmetics would be required to fix the issues with this product.
Description
Functional 6' laminar flow hood -- integrated Sartorius scale and safety lockout controls
Tested.
Functional.
In very good condition.
Its Sartorius scale offers highly precise sample weighing, able to detect even
.0001 kg.
And its positive pressure and integrated HEPA filter isolate your sample from
99.99%+ of contaminants.
The Germfree/IPT 6' vertical laminar flow hood.
Reliable performance at a pre-owned price.
This flow hood, shown to be fully functional here at the NLS tech shop, was
also tested in December 2016 by a manufacturer-certified technician. You can
see the verification badge for yourself in the pictures above.
Note: Although we're confident in this thing's performance, there will be some assembly/configuration required by the end user as we do not have the manual.
The buyer will need to figure out how to make the hands-free safety feature
trigger the desired dispense mechanism and/or integrate the scale into their
process.
Reliable Instrument Vendor
New Life Scientific is an experienced scientific vendor with a history of pos-
itive customer experiences (just check out our eBay reputation!). You can have
confidence in our technical evaluations and our warranty knowing that we have
actual in-house technicians who inspect, test, service, and repair the various
instruments we receive.
After their examinations and being cleaned inside and out, products often leave
our shop meeting manufacturer specs.
When you buy from New Life Scientific, youre free to contact us at any time for
after-sales support concerning any questions or issues that may arise, even
after your warranty expires.
Includes a 90-Day Warranty for your Peace of Mind
Buying pre-owned can be unnerving. We realize you want assurance in your pur-
chase, so we include a 90-day warranty on our equipment. If anything goes wrong,
our in-house support is only a phone-call away.
Support for Instrument Longevity - In addition to our 90-day warranty, we
offer you continued support from our technicians, including technical questions
and consulting. We may be able to offer exchanges or back-up units in a pinch.
Manufacturer

Germfree/IPT

Model

BV-6SSRX

Serial No.

65-15-BV-14910

Job No.

M419

Downflow Velocity Range

90-100 fpm

Dimensions (W x D x H)

83" x 33" x 83" (210.8 x 83.8 x 210.8 cm)

Electrical Information

Type V1106

115V

60Hz,

12A
Used
- A pre-owned and tested instrument that may show signs of wear
Oversize Freight ($380)
- Reserved for products exceeding 43" in length and 43" in width.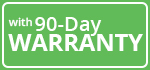 Backed by a 90-day Warranty
- Your instrument works, or we repair, refund, or replace.
Payment & Security
Your payment information is processed securely. We do not store credit card details nor have access to your credit card information.
Ask a Question or Request a quote!
Ask a Question or Request a quote!