Description
Fully-Functional Getinge HS-22 K7 Steam
Sterilizer with 90-Day Warranty
Safe, cost-effective solution for steam sterilization of tools in the healthcare
sector, this Getinge HS-22 K7 steam sterilizer has been thoroughly inspected
by our technician. Its been verified to heat to temperature and perform the
sterilization run without error.
User-friendly and simple to operate, this steam sterilizer is designed with a
17.75 inches deep rectangle chamber for maximum load capacity, sliding door
for added safety from pressure and heat, and an easy-to-clean stainless steel
construction. Overall, its in good physical condition with only minor wear from
use and age.
Functional, Error-free Sterilization
Our technician inspected and tested this steam sterilizer, confirming the
system to be fully-functional, holding pressure and able to perform all core
functions including the control panel, heating element, and water pump.
The following tests were performed:
- Performs sterilization run without error
- Remaining water pumps back into reservoir
- Display screen and control panel buttons are responsive
No problems were found with this steam sterilizer.
Ready for Operation
Tested and confirmed fully-functional, this steam sterilizer comes with two
trays, service manuals, power transformer, and power cable so you can begin
using this instrument without delay.
The following is included with this system:
- Getinge HS-22 K7 Steam Sterilizer
- Toroid Power Transformer TI-051401 (200V to 230V)
90-Day Warranty for your Peace-of-Mind
We realize that buying pre-owned can be unnerving, so we include a 90-day
warranty on our equipment to protect you against any equipment failure or
defects. If anything goes wrong, our in-house support is only a phone call away.
Specifications
| | |
| --- | --- |
| Manufacturer | Getinge |
| Mfg. Date | August 2008 |
| Model | HS-22 K7 |
| Part No. | 978047501 c |
| Serial No. | 08344743 |
| Chamber volume | 20 L |
| Max load | 7 Kg |
| Temperature | 140C |
| Feed water quality | Distilled, R/O or deionized |
| Feed water temperature | 5 to 40C |
| Feed water pressure | 0.5 Bar |
| Water consumption during steam generation | 10 to 100 ml |
| Water consumption / process | Approx. 0.2-0.4 liters |
| Voltage | 208 V, 60 Hz, 10 A |
| Total wattage | 2200 W |
| Chamber dimensions (W x D x H) | 7.75 x 17.5 x 8.5 in |
| Overall dimensions (W x D x H) | 20.75 x 24 x 18.75 in |
| Weight | 80 Kg (176 lbs) |
Used
- A pre-owned and tested instrument that may show signs of wear
Flat-Rate Freight ($285)
- The instrument is web-wrapped to a pallet with shrink-wrap.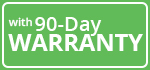 Backed by a 90-day Warranty
- Your instrument works, or we repair, refund, or replace.
Payment & Security
Your payment information is processed securely. We do not store credit card details nor have access to your credit card information.