Description
Applied Biosystems ProFlex Base PCR Thermal Cycler in Excellent Condition with 2 x 384-Well Block
This ProFlex has undergone professional inspection and testing by our technical staff here. The heating and cooling functions are confirmed to work, along with the control panel and program execution. Additionally, the temperature reading is confirmed to be accurate.
This thermal cycler is in excellent condition and is backed by a 90-day warranty. It comes with a 2x384-well block installed and a power cable.
Passes Self-Test & Display Accurate Temperature Reading
In evaluating this thermal cycler, our technical staff noted that the unit is in excellent condition and shows no signs of malfunction. They performed the following tests:
- The system passes its self-test:
PASSED
- The system heats and cools properly:
PASSED
- Programmed runs are executed without error:
PASSED
- Every button on the control panel works:
PASSED
- The reported temperature is accurate:
PASSED
No issues were found at any point. We are confident that this ProFlex will deliver reliable performance.
Manufactured In 2014 & In Excellent Condition
This thermal cycler has been gently used and bears virtually no signs of wear. The exterior is free from deep scratches and the screen is bright and clear. We recommend reviewing the photos for more details.
- Applied Biosystems ProFlex Base PCR thermal cycler
- 2 x 384-Well Block
- Power cable
From a Professional Dealer To Your Lab
New Life Scientific is an experienced scientific vendor with a history of positive customer experiences. You can have confidence in our technical evaluations and our warranty knowing that we have actual in-house technicians who inspect, test, service, and repair the various instrμments we receive.
After examination and thorough cleaning, products often leave our shop meeting manufacturer specs. When you buy from New Life Scientific, you're free to contact us at any time for after-sales support concerning any questions or issues that may arise, even after your warranty expires.
Manufacturer

Applied Biosystems

Model

ProFlex Base

Reference No.

4483636

Serial No.

297802546

Date of Manufacture

October 2014

Maximum block ramp rate

3.00°C/sec

Maximum sample ramp rate

1.60°C/sec

Temperature accuracy

+/-0.25°C (35 to 99.9°C)

Temperature range for protocol run

0°C to 100.0°C

Temperature uniformity

<0.5°C (30 seconds after reaching 95°C)

PCR volume range

5 - 20uL

Instrument memory

USB, on-board

Display interface

8.4" color TFT LCD

Power Specifications

100-240V, 50-60Hz, Max. 950 W, Max. Current 12 A
For Australia/New Zealand: 230VAC, 50Hz, Max. 950 W, Max. Current: 10 A

Dimensions (W x D x H)

13 x 22 x 10.75 in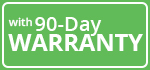 Backed by a 90-Day Warranty - Your instrument works, or we repair, refund, or replace.

Used - A pre-owned and tested product that may show signs of wear.

Free Parcel Shipping - All parcel (65 lbs and below) items are shipped for free unless the buyer chooses to expedite the shipping.

Payment & Security
Your payment information is processed securely. We do not store credit card details nor have access to your credit card information.