Description
Caron Reach-In CO2 Incubator Model 6024-1: Tested & In Good Condition
Easy to install, use, and maintain, this Caron reach-in CO2 incubator has been thoroughly inspected by our technician and tested to confirm the heating system is functional, reaching and holding interior temperature steady at +37°C within ±0.1°C.
This CO2 incubator is in good physical condition with a cold rolled steel, powder coated exterior with a few small scuffs and some minor wear from use. It has a heated triple pane outer glass door and an easy-to-clean stainless steel interior with four adjustable stainless steel shelves.
If you're looking for a cost-effective, high capacity CO2 incubator with relative humidity control and a simple, user-friendly design, then you've come to the right place.
Inspected and Tested by Our Technical Staff
Our technical staff inspected and tested this CO2 incubator, confirming the heating system to bring the chamber to +37°C, holding with +/-0.1°C.
Here's a summary of our component-level testing.
- Heating holds at temp:
PASSED
- All control panels/displays functional:
PASSED
- High/low temperature alarm works:
PASSED
- Open door alarm works:
PASSED
- Successful temperature calibration within margin of error:
PASSED
- Compartment fan is functional:
PASSED
- CO2 and humidity sensors read:
PASSED
Note: We cannot verify the accuracy of the humidity or CO2 sensors.
Ready for Operation at Full Capacity
This Caron incubator comes with four spacious shelves and a power cable so you can immediately begin using the system. Tubing for the CO2 supply and distilled/deionized water supply will need to be provided by the end user.
- Caron Reach-In CO2 Incubator Model 6024-1
- x4 Stainless Steel Shelves
- Power Cable
All interior surfaces, including the four shelves, are made of stainless steel. This makes them not only easy to clean, but also resistant to corrosion.
From a Professional Dealer to Your Lab
New Life Scientific is an experienced scientific vendor with a history of positive customer experiences (just check out our reviews!). You can have confidence in our technical evaluations and our warranty knowing that we have actual in-house technicians who inspect, test, service, and repair the various instruments we receive.
After examination and thorough cleaning, products often leave our shop meeting manufacturer specs. When you buy from New Life Scientific, you're free to contact us at any time for after-sales support concerning any questions or issues that may arise, even after your warranty expires.
| | |
| --- | --- |
| Manufacturer | Caron |
| Model | 6024-1 |
| Serial No. | 012510-6024-1-23 |
| Temperature range | ambient plus 10°C to 60°C |
| Temperature control | ±0.1°C |
| Temperature uniformity | ±0.3°C |
| Temperature sensor | RTD |
| Humidity range | ambient to 95% RH |
| Humidity control | ±3% RH |
| Humidity sensor | Capacitive |
| CO2 range | 0-20% CO2 |
| CO2 control | ±0.1% CO2 |
| CO2 sensor | Infrared |
| Voltage | 115 VAC, 60 Hz, 11.8 FLA |
| Interior dimensions (W x D x H) | 29.5 x 26.5 x 51.5 in |
| Exterior dimensions (W x D x H) | 35.5 x 36 x 77 in |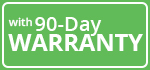 Backed by a 90-Day Warranty - Your instrument works, or we repair, refund, or replace.

Used - A pre-owned and tested product that may show signs of wear.

Two Box Shipments/Calculated Freight - This shipping method requires a custom quote. Please contact us for one.
Payment & Security
Your payment information is processed securely. We do not store credit card details nor have access to your credit card information.