Description
Distek 2100B Dissolution Station with Stirrers, Vessels, and TCS 0200B Pump: All Tested & Working
This Distek 2100B has been fully inspected and tested by our technical staff, who confirmed that it works without any problems.
Packaged with a pump and all vessels, stirrers, and paddles, this dissolution system is a great investment for the lab on a tight budget. And in the slim chance something goes awry, you're protected by our 90-day warranty.
Full Testing -- Everything Confirmed to Work
Every aspect of this system has been inspected and tested with excellent results. All of the stirrers work smoothly, the pump works well, etc. Here is a full list of what we tested:
- System powers on and initializes without issue:
PASSED
- All buttons responsive, able to change settings:
PASSED
- Stirrers run smoothly:
PASSED
- Pump works and has a strong, consistent flow:
PASSED
- Heater warms up and holds temperature:
PASSED
In Good Cosmetic Condition
Aside from some chipped paint and scuffing common among used equipment, this entire dissolution setup has few cosmetic issues and no damage. Please review the photos to see more of the cosmetic condition.
- Distek 2100B Dissolution Station
- Distek TCS 0200B Thermocirculator
- Temperature Probe
- x5 Stirrers
- x7 Vessels
- x5 Paddles
- Power Cables
From a Professional Dealer to your Lab
New Life Scientific is an experienced scientific vendor with a history of positive customer experiences. You can have confidence in our technical evaluations and our warranty knowing that we have actual in-house technicians who inspect, test, service, and repair the various instruments we receive.
After examination and thorough cleaning, products often leave our shop meeting manufacturer specs. When you buy from New Life Scientific, you're free to contact us at any time for after-sales support concerning any questions or issues that may arise, even after your warranty expires.
Manufacturer

Distek

Model

2100B

RPM Control Range

25-250 RPM, digitally controlled, closed loop

Resolution

0.1 RPM

Accuracy

+/- 0.5 RPM

Display

0.55 inch (14mm) four-digit LED

Motor

High Torque, Permanent Magnet

Shaft Wobble

less than 0.010" (0.254mm) TIR (total indicator reading)

Dissolution Vessel Quantity

7 built-in vessel positions

Dissolution Vessel Volume

500mL to 1000mL

Drive Positions

6 positions standard (7th & 8th optional)

Bath Temperature Control

TCS-0200B Thermocirculator

Display Resolution

0.1°C

Accuracy

+/-0.25°C

Program Modes

Manual, Automatic, External

Interface Ports

RS-232, RS-485, Parallel Printer

Dimensions (W x D x H)

2100B Bath: 25" x 19.25" x 39"
TCS-0200B: 7" x 7" x 16"

Net Weight (approx.)

2100B Bath: 140 lb. (63.5kg) with full water bath
TCS-0200B: 16 lb. (7.3kg)

Power Requirements

2100B Bath: 115V, 50/60Hz, 0.5A or 220V, 50/60Hz, 0.5A
TCS-0200B: 115V, 50/60Hz, 8A or 220V, 50/60Hz, 5A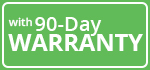 Backed by a 90-Day Warranty - Your instrument works, or we repair, refund, or replace.

Used - A pre-owned and tested product that may show signs of wear.

Flat-Rate Freight ($285) - The instrument is web-wrapped to a pallet with shrink-wrap.

Payment & Security
Your payment information is processed securely. We do not store credit card details nor have access to your credit card information.