Description
Eppendorf 5417R Refrigerated Benchtop Centrifuge in Good Condition with F 45-30-11 Fixed-Angle Rotor
Every week here at the New Life Scientific tech shop, we are inspecting, testing, and servicing benchtop centrifuges such as this Eppendorf 5417R, offering you a wide variety of used centrifuges with a clear understanding of their condition and functionality.
This centrifuge has been confirmed fully-functional, having been inspected, serviced, and tested by our technical staff. It was tested to 14,000 rpm with refrigeration holding the rotor chamber at 4°C during operation.
In Good Physical Condition with Some Wear
Although this centrifuge has some wear and aging, it's in good condition overall. The insulation between the chamber and the refrigeration system is worn, there are a few hairline cracks around a screw, and there are some scratches on the body. The lid has been repainted, giving the centrifuge a bit of a cosmetic refresh. We recommend you review the photos.
Fully Inspected and Tested by our Centrifuge Specialist
Our in-house centrifuge specialist tested every aspect of this unit to confirm full functionality. The unit's functionality was confirmed with the following tests:
- Tested centrifugation at 14,000 rpm:
PASSED
- Tested refrigeration, cooling held at 4°C:
PASSED
- Tested all buttons on user interface:
PASSED
- Tested lid latching:
PASSED
You Will Receive the Following:
- Eppendorf 5417R refrigerated benchtop centrifuge
- Eppendorf F 45-30-11 rotor with lid
- Power cable
From an Experienced Centrifuge Dealer to your Facility
New Life Scientific is no stranger to centrifuges. Over the past four years, we have dealt in and worked on a wide variety of benchtop and floor centrifuges from the top manufacturers, including Eppendorf, Beckman, and Sorvall/Thermo.
You can have confidence in our technical evaluations and our warranty knowing that we have actual in-house technicians who inspect, test, service, and repair centrifuges. After their examinations and being cleaned inside and out, they often leave our shop meeting manufacturer specs.
When you buy from us, you're not just buying a centrifuge. You also gain a resource for after-sales support for keeping your centrifuge running, even after your warranty expires.
| | |
| --- | --- |
| Manufacturer | Eppendorf |
| Mfg. Date | 1998 |
| Model | 5417R |
| Serial No. | 5407 05134 |
| Max. Speed | 16,400 rpm |
| Max. Centrifugal Force | 25,000 rcf |
| Max. load | 30 x 2.0 ml Safe-Lock Microcentrifuge Tubes |
| Max. density of material to be centrifuged | 1.2 g/ml |
| Temperature Control Range | 3°C to +40°C |
| Temperature Control Range | -9°C to +40°C |
| Power Requirements | 120V, 60Hz, 700W |
| Dimensions (W x D x H) | 12.5" x 23.5" x 10" |
| Weight | 34.8 kg (76.7 lbs) |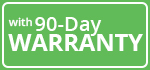 Backed by a 90-Day Warranty - Your instrument works, or we repair, refund, or replace.

Used - A pre-owned and tested product that may show signs of wear.

Flat-Rate Freight ($285) - The instrument is web-wrapped to a pallet with shrink-wrap.

Payment & Security
Your payment information is processed securely. We do not store credit card details nor have access to your credit card information.