Functional Condition
These instruments perform at manufacturer specifications, having undergone repair or service and sometimes cosmetic refinishing. Often, our work leaves the instrument in better functional condition and expected longevity than other used instruments of the same age. They are in excellent cosmetic condition.

Includes 120 day Warranty

These instruments have been confirmed to perform at manufacturer specifications by NLS technical staff and carry a longer warranty than standard used products. Additional extended warranties may be available for these instruments.

Includes 120 day Warranty

These instruments have undergone various levels of quality testing, some quite limited and others extensive. However, all are guaranteed to perform to manufacturer specifications unless some defect or limitation has been specified. Please pay close attention to the description to understand exactly what you are purchasing.

Includes 90 day Warranty

These instruments are either known to be malfunctioning or not guaranteed to function properly and are suitable for repair or salvaging for parts. They are not protected by a warranty.

Does not include a warranty
Cosmetic Condition
This product could almost be mistaken for being new, having negligible or no cosmetic issues. These issues may include things such as a small scratch or a few small nicks in the exterior. Little can be done to improve the condition level of this product.

This product has the appearance of a typical used product having some minor cosmetic issues and typical wear from use. These issues may include things such as scratches, scuff marks, nicks, a small hairline crack, or shallow dents in the exterior. Fixing these issues would only somewhat improve the condition level of this product, but wouldn't be considered necessary.

This product is clearly used and worn from much use having significant cosmetic issues and wear. These issues may include things such as large sections of paint chipping, scratches, deep scuff marks, dents, discoloration, cracks or stains. Fixing these issues would improve the condition level of this product, but it may be too costly.

This has the appearance of being broken and/or heavily worn from use having serious cosmetic issues and wear. These issues may include things such as huge sections of missing paint, discoloration, caustic erosion, deep dents, large cracks or frame warping. A major overhaul of the cosmetics would be required to fix the issues with this product.
Description
HunterLab UltraScan PRO Spectrophotometer: In Good Condition & Backed by Warranty
With a wide wavelength range spanning from 350 to 1050 nm, the Ultrascan PRO offers precise, accurate spectroscopy measurements that can even quantify "camouflage materials and UV blockers".
Our used Ultrascan PRO unit has been professionally inspected and tested by our senior technician. It passed all diagnostic tests except for the Monitor Balance test, so it will likely require service by the end user.
This spectrophotometer also comes with a copy of the diagnostic software. When opened, the diagnostic software raises a registration error. We believe this can be resolved by purchasing a copy of the easyMatch software and registering it with this Ultrascan.
Additionally, this unit comes with a plethora of accessories, such as Color Standards and various apertures.
In Good Cosmetic Condition
Aside from some minor signs of wear on the exterior casing, this spectrophotometer is in good condition. Please review the photos to see more of the cosmetic condition.
- HunterLab Ultrascan PRO Spectrophotometer
- HunterLab Ultrascan PRO Diagnostic Software Version 1.10B CD
- Color Standards
- Apertures of various sizes
- Cuvette Holders
- Compression Clamp
- Power Cable
From a Professional Dealer to Your Lab
New Life Scientific is an experienced scientific vendor with a history of positive customer experiences. You can have confidence in our technical evaluations and our warranty knowing that we have actual in-house technicians who inspect, test, service, and repair the various instruments we receive.
After examination and thorough cleaning, products often leave our shop meeting manufacturer specs. When you buy from New Life Scientific, you're free to contact us at any time for after-sales support concerning any questions or issues that may arise, even after your warranty expires.
Manufacturer

HunterLab

Model

Ultrascan PRO

Serial No.

USP1180

Measurement Principle

Dual-beam spectrophotometer

Geometry

Diffuse d/8° reflectance, d/8° total transmission, d/0° regular transmission

Spectrophotometer

Two polychromators, each with a 512 element diode array and a high resolution, concave holographic grating

Sphere Diameter

152 mm (6 in.)

Sphere Coating

Spectraflect™ for sphere, Duraflect™ for port plate and specular exclusion door

Lens Switching for LAV/MAV/SAV

Automatic

Specular Component

Automated Included (RSIN) or Excluded (RSEX) in reflectance

Spectral Range

350 nm - 1050 nm full CIE visible range plus NIR

Wavelength Resolution

<2 nm

Effective Bandwidth

5 nm equivalent triangular

Reporting Interval

5 nm

Photometric Range

0-150%

Light Source

Pulsed Xenon lamps (3), calibrated and controlled for the UV range

Automatic UV Control

400 nm cutoff filter for UV control and UV exclusion
Optional 420 nm cutoff filter for UV exclusion

Transmission Modes

Total (TTRAN) and Regular (RTRAN)

Transmission Compartment

Large and open on 3 sides 10.2 cm D X 35.6 cm W x 16.5 cm H (4 in. D x 14 in. W x 6.5 in. H)

Colorimetric Repeatability (20 readings)

< 0.03 ∆E* CIE L*a*b * on white tile in LAV mode (20 readings)
< 0.07 ∆E* CIE L*a*b* on blue denim tile in LAV mode

Spectral Repeatability

Max 0.20 range between 435 nm and 695 nm

Power Requirements

90 to 250 VAC, 50 to 60 Hz
60 watts passive, 120 watts maximum

Dimensions (W x D x H)

16.5 x 19.6 x 12.7 in. (42 x 49.8 x 32.3 cm)

Weight

57 lbs (25.9 kg)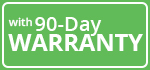 Backed by a 90-Day Warranty - Your instrument works, or we repair, refund, or replace.

Used - A pre-owned and tested product that may show signs of wear.

Free Parcel Shipping - All parcel (65 lbs and below) items are shipped for free unless the buyer chooses to expedite the shipping.

Payment & Security
Your payment information is processed securely. We do not store credit card details nor have access to your credit card information.
Ask a Question or Request a quote!