Description
Perkin Elmer EnSpire 2300 Multilabel Multimode Plate Reader in Good Condition with PC and Software
Professionally tested and inspected, this EnSpire 2300 comes with everything needed for immediate usage and is backed by our 90-day warranty.
The EnSpire 2300 is a flexible plate reader engineered for a high-volume, multi-user laboratory. It has several detection technologies and even more measurement modes, so you're sure to have a protocol suitable for your application.
Professionally Inspected & Tested by Technician
After determining this reader is in good condition during inspection, our technician ran the EnSpire through the following tests to confirm functionality:
- Successful boot-up and initialization:
PASSED
- Successful communication with desktop software:
PASSED
- Ran luminescence scan with accurate results:
PASSED
- Recognizes filters:
PASSED
- All internal mechanics work smoothly:
PASSED
Manufactured in 2015 and in Good Cosmetic Condition
This plate reader has been inspected by our technical staff and found to be in good cosmetic condition. There is no damage or excessive wear. Please review the photos to see more details of the cosmetic condition.
Multiple Detection & Measurement Technologies Supported
The EnSpire 2300 supports 6- to 384-well plates and has several detection technologies integrated, including:
- Filter absorbance (F-Abs)
- Quad-monochromator based fluorescence intensity (FI)
- Luminescence (Lum)
- Alpha
The reader also supports numerous measuring modes, including:
- Single point
- On-the-fly
- Kinetic
- Well area scan
- Spectrum scan
You Will Receive the Following:
- Perkin Elmer EnSpire 2300 multilabel plate reader
- PC with Software installed
- Power Cables
This plate reader comes equipped with the following filters installed in the filter wheel: X320, X340, X585co, X360co
From a Professional Dealer to your Lab
New Life Scientific is an experienced scientific vendor with a history of positive customer experiences. You can have confidence in our technical evaluations and our warranty knowing that we have actual in-house technicians who inspect, test, service, and repair the various instrμments we receive.
After examination and thorough cleaning, products often leave our shop meeting manufacturer specs. When you buy from New Life Scientific, you're free to contact us at any time for after-sales support concerning any questions or issues that may arise, even after your warranty expires.
Manufacturer

Perkin Elmer

Model

EnSpire 2300 Multilabel Reader

Serial No.

23001265

Mfg. Date


May 2015


Detection Technologies

Absorbance
Fluorescence
Alpha
Luminescence
Label-free (not installed)

Compatible Plate Sizes

6, 12, 24, 48, 96, and 384-well plates

Filters Installed

X320, X340, X585co, X360co

Software Version

4.13.3005.1482

Power Specifications

100-240 VAC, 50/60Hz, 300VA max.

Dimensions (W x D x H)

19.5" x 22.5" x 16.5"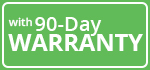 Backed by a 90-Day Warranty - Your instrument works, or we repair, refund, or replace.

Used - A pre-owned and tested product that may show signs of wear.

Flat-Rate Freight with Custom Crate ($580) - The instrument is protected by a custom-built, foam-padded crate.

Payment & Security
Your payment information is processed securely. We do not store credit card details nor have access to your credit card information.