Description
Thermo Fisher Scientific VarioSkan LUX Multimode Microplate Reader: Tested & In Excellent Condition
This microplate reader, having been professionally inspected and tested by our technical staff, is confirmed to work without issue and bear no damage.
Our particular LUX includes absorbance, luminescence, and fluorescence intensity measurement capabilities. It can read microplates ranging from 6-well plates all the way to 1536-well (absorbance mode can only read up to 384-well plates).
Packaged with a power cable and a 90-day warranty, this VarioSkan LUX promises performance and cosmetics rivaling that of a new unit at a much more attractive price.
Tested & Working -- Successful Calibration & Software Update
Thanks to the 30-day trial period that Thermo offers for the SkanIt software, our technical staff was able to connect this reader to a PC and ensure the devices communicated properly. Once connected, our techs installed a software update and then successfully calibrated the unit.
At no point were there any errors or red flags in the behavior of the VarioSkan LUX. As such, we believe it will provide you with top-notch performance.
Manufactured In 2016 & In Excellent Condition
Having rolled off the factory line in November 2016 and maintained well ever since, this VarioSkan LUX is still in excellent condition and bears only minor signs of wear. We recommend reviewing the photos.
- Thermo Fisher Scientific VarioSkan LUX Multimode Microplate Reader
- Power Cable
NOTICE: A PC and software must be acquired separately. The SkanIt software is available from both Thermo Fisher Scientific and VWR.
From a Professional Dealer to Your Lab
New Life Scientific is an experienced scientific vendor with a history of positive customer experiences. You can have confidence in our technical evaluations and our warranty knowing that we have actual in-house technicians who inspect, test, service, and repair the various instruments we receive.
After examination and thorough cleaning, products often leave our shop meeting manufacturer specs. When you buy from New Life Scientific, you're free to contact us at any time for after-sales support concerning any questions or issues that may arise, even after your warranty expires.
Manufacturer

Thermo Fisher Scientific

Model

VarioSkan LUX

Type

3020

Reference No.

VLBL00D0

Serial No.

3020-470

Date of Manufacture

November 2016

Detector Type

Photomultiplier Tube

Light Source

Xenon flash lamp

Reading Options

Top and bottom

Read-out Range

0 - 6 Abs

Measurement Technology

Absorbance, Fluorescence intensity, and Luminescence

Measurement Type

End-point, kinetic, spectra, multipoint, and kinetic spectra

Plate Type

6 - 1536 well plates (absorbance 6 - 384 well plates)

Wavelength Selection

Absorbance: double monochromators
Fluorescence intensity: double excitation and emission monochromators
Double monochromators for spectral scanning

Wavelength Range

Absorbance: 200 - 1000nm
Fluorescence intensity: Excitation: 200 - 1000nm, Emission: 270 - 840nm

Linearity

0 - 4Abs (96-well plate) at 450nm, ± 2%
0 - 3Abs (384-well plate) at 450nm, ± 2%

Accuracy

0.003Abs or ± 2%, at 200 - 399nm (0 - 2Abs)
0.003Abs or ± 1%, at 400 - 1000nm (0 - 3Abs)

Precision

SD < 0.001Abs or CV < 0.5%, at 450nm (0 - 3 Abs)

Sensitivity

Fluorescence intensity (top reading): <0.4 fmol fluorescein/well (black 384-well plate)
Fluorescence intensity (bottom reading): <4 fmol fluorescein/well, (clear bottom black 384 square well plate)
Luminescence: <7 amol ATP/well (white 384-well plate)

Dynamic Range

Fluorescence intensity: top reading > 6 decades, bottom reading > 5.5 decades
Luminescence: >7 decades

No. of Dispensers

None

Incubator Temperature

up to 45°C

Shaking

Orbital

Measurement Speed

Reads a 96-well plate in 15 sec., a 384-well plate in 45 sec., and a 1536-well plate in 135 sec. (minimum times)

Spectral Scanning Speed

<2.2 s/well 400 to 500 nm, 1 flash, 2 nm Step

Interface Software

PC Software (Thermo Scientific SkanIt Software)

Electrical Specifications

100-240VAC, 50/60Hz, 200VA

Dimensions (W x D x H)

21 x 22.5 x 20 in.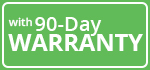 Backed by a 90-Day Warranty - Your instrument works, or we repair, refund, or replace.

Used - A pre-owned and tested product that may show signs of wear.

Flat-Rate Freight with Custom Crate ($580) - The instrument is protected by a custom-built, foam-padded crate.

Payment & Security
Your payment information is processed securely. We do not store credit card details nor have access to your credit card information.