Functional Condition
These instruments perform at manufacturer specifications, having undergone repair or service and sometimes cosmetic refinishing. Often, our work leaves the instrument in better functional condition and expected longevity than other used instruments of the same age. They are in excellent cosmetic condition.

Includes 120 day Warranty

These instruments have been confirmed to perform at manufacturer specifications by NLS technical staff and carry a longer warranty than standard used products. Additional extended warranties may be available for these instruments.

Includes 120 day Warranty

These instruments have undergone various levels of quality testing, some quite limited and others extensive. However, all are guaranteed to perform to manufacturer specifications unless some defect or limitation has been specified. Please pay close attention to the description to understand exactly what you are purchasing.

Includes 90 day Warranty

These instruments are either known to be malfunctioning or not guaranteed to function properly and are suitable for repair or salvaging for parts. They are not protected by a warranty.

Does not include a warranty
Cosmetic Condition
This product could almost be mistaken for being new, having negligible or no cosmetic issues. These issues may include things such as a small scratch or a few small nicks in the exterior. Little can be done to improve the condition level of this product.

This product has the appearance of a typical used product having some minor cosmetic issues and typical wear from use. These issues may include things such as scratches, scuff marks, nicks, a small hairline crack, or shallow dents in the exterior. Fixing these issues would only somewhat improve the condition level of this product, but wouldn't be considered necessary.

This product is clearly used and worn from much use having significant cosmetic issues and wear. These issues may include things such as large sections of paint chipping, scratches, deep scuff marks, dents, discoloration, cracks or stains. Fixing these issues would improve the condition level of this product, but it may be too costly.

This has the appearance of being broken and/or heavily worn from use having serious cosmetic issues and wear. These issues may include things such as huge sections of missing paint, discoloration, caustic erosion, deep dents, large cracks or frame warping. A major overhaul of the cosmetics would be required to fix the issues with this product.
Description
Vetequip Compac5 Rodent Anesthesia System in Good Condition: Tested, Working System
Our technical staff reported no problems when inspecting and testing this Compac5. It successfully initialized, heated, ran pumps, etc., indicating full functionality. In the off-chance this system malfunctions, however, you're protected by a 90-day warranty.
Included with this Compac 5 are mouse holders, a user manual, tubing, and a power cable.
Floor Successfully Heats & Pumps Run -- Good Testing Results All Around
Our technical staff inspected and tested this Compac5 as thoroughly as possible, noting no problems with either the cosmetics or functionality. To test the system, our staff performed the following tests:
- System powers on properly:
PASSED
- Pumps run without issue:
PASSED
- Heated floor heats and holds at 90°F:
PASSED
- All valves seem to work appropriately:
PASSED
We were unable to check for leaks, but as with all of our tested and serviced instruments, this Compac5 is backed by a 90-day warranty.
In Good Cosmetic Condition
This Compac5 has been taken care of very well and is in good condition. It bears only minor signs of wear and age. Please review the photos for more details about the cosmetic condition.
- Vetequip Compac5 Rodent Anesthesia System
- x1 Tri-chamber
- x2 Large chambers
- Mouse holders
- Heating pad
- Power cable
- Some tubing*
- User Manual
*The end user must supply the rest of the tubing and a gas supply.
From a Professional Dealer to your Facility
New Life Scientific is an experienced scientific vendor with a history of positive customer experiences. You can have confidence in our technical evaluations and our warranty knowing that we have actual in-house technicians who inspect, test, service, and repair the various instruments we receive.
After examination and thorough cleaning, products often leave our shop meeting manufacturer specs. When you buy from New Life Scientific, you're free to contact us at any time for after-sales support concerning any questions or issues that may arise, even after your warranty expires.
Manufacturer

Vetequip

Model

Compac5

Serial No.

VE4744RC2

Inlet Gas Supply

Male Oxygen DISS

Circuit Delivery Volume (preset)

500 cc/min ±10% in "UP" position 1,000 cc/min ±10% in "DOWN" position

Gas Pressure Requirements (O2)

50-55 psi.

System Master Controller

ON/OFF Toggle Switch -- allows piped-in gas to charge system

Exhaust System Pressure Gauge

Indicates differential pressure in inches w.c.

Circuit Controllers (Circuits 1-5)

ON/OFF/ON Toggle Switch -- allows pre-set flow of O2 and anesthetic gas to individual circuits 1 thru 5.

Patient Circuit Outlets: (Circuits 1and 5)

1/4" Hose barb ports used to connect to non-rebreathing system

O2 Flowmeter

0-5 LPM provides visual verification that flow is present in system

Dimensions (W x D x H)

With shelves collapsed: 22" x 29" x 48"
With shelves extended: 43" x 29" x 48"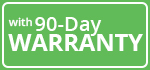 Backed by a 90-Day Warranty - Your instrument works, or we repair, refund, or replace.

Used - A pre-owned and tested product that may show signs of wear.

Flat-Rate Freight ($285) - The instrument is web-wrapped to a pallet with shrink-wrap.

Payment & Security
Your payment information is processed securely. We do not store credit card details nor have access to your credit card information.
Ask a Question or Request a quote!