Description
YSI 2300D Stat Plus Glucose and L-Lactate Analyzer in Excellent Condition: Tested, Working System
This 2300D analyzer has been professionally inspected and tested here at the NLS tech shop. Our technical staff found no problems with any aspect of the machine. All you'll need to use it are calibration, waste, and buffer bottles.
In excellent cosmetic condition and backed by a 90-day warranty, this 2300D will be a solid investment for any lab looking to save.
Smooth Arm Movement & Pumping
Having come straight from a laboratory that maintained it well, this glucose analyzer worked well from the moment we received it. While evaluating it, our technical staff performed the following tests:
- System powers on and initializes successfully:
PASSED
- All pumps move fluid throughout the system:
PASSED
- Arm homes to all 3 positions, moving smoothly:
PASSED
- Sample chamber and calibration well drain properly:
PASSED
- Test
tube
, sipper pump, horizontal, and vertical optical sensors all work:
PASSED
- Sipper, calibration, buffer, and waste sensors all work :
PASSED
- Magnetic stir bar and motor work:
PASSED
- Keypad, display, and printer all function properly:
PASSED
- Amperage probe gives good readings:
PASSED
In Excellent Cosmetic Condition
Aside from some very wear, this 2300D is in excellent condition. The user interface is clean, with no wear on the buttons or scratches on the screen. It'll look right in place alongside even new equipment. We recommend that you review the photos.
- YSI 2300D Stat Plus Glucose/L-Lactate Analyzer
- Power cable
NOTICE: The end user must supply the calibration, buffer, and waste bottles separately.
From a Professional Dealer to your Facility
New Life Scientific is an experienced scientific vendor with a history of positive customer experiences. You can have confidence in our technical evaluations and our warranty knowing that we have actual in-house technicians who inspect, test, service, and repair the various instruments we receive.
After examination and thorough cleaning, products often leave our shop meeting manufacturer specs. When you buy from New Life Scientific, you're free to contact us at any time for after-sales support concerning any questions or issues that may arise, even after your warranty expires.
Manufacturer

YSI

Model

2300D Stat Plus

Serial No.

08L000025

Mfg. Date

2008

Sample Size

25 microliters (aspirated volume)

Response Time (from Test Tube Holder station)

Normal Mode: Displayed/printed result in 65 seconds, sample to sample interval is 100 seconds
Screen Mode: Displayed/printed result in 45 seconds, sample to sample interval is 70 seconds

Linear Range

Normal Mode:

Glucose: to 50.0 mmol/L (900 mg/dL or 9000 mg/L)

Lactate: to 30.0 mmol/L (267 mg/dL or 2670 mg/L)

Screen Mode:

Glucose: to 27.8 mmol/L (500 mg/dL or 5000 mg/L)

Lactate: to 15.0 mmol/L (134 mg/dL or 1335 mg/L)

Calibration Point

Glucose: 10.0 mmol/L; 180 mg/dL; 1800 mg/L
Lactate: 5.00 mmol/L; 45 mg/dL; 445 mg/L

Enzyme membrane working life (typical)

Glucose: 21 days (YSI 2365)
Lactate: 14 days (YSI 2329)

Precision

Glucose: ±2% of the reading or 2.5 mg/dL (25 mg/L, 0.2 mmol/L), whichever is larger
Lactate: ±2% of the reading or 0.1 mmol/L (1 mg/dL, 10 mg/L), whichever is larger

Resolution

Glucose: 1 mg/dL (1 mg/L, 0.1 mmol/L)
Lactate: 0.1 mmol/L (1 mg/L, 1 mg/dL)

Power Requirements

110V-120V, 0.12A, 60Hz, 1.0A

Dimensions (W x D x H)

14.5" x 11" x 15"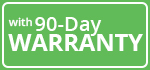 Backed by a 90-Day Warranty - Your instrument works, or we repair, refund, or replace.

Used - A pre-owned and tested product that may show signs of wear.

Free Parcel Shipping - All parcel (65 lbs and below) items are shipped for free unless the buyer chooses to expedite the shipping.

Payment & Security
Your payment information is processed securely. We do not store credit card details nor have access to your credit card information.