Description
YSI 2900D Nutrient Biochemistry Analyzer in Good Condition for Clinical Research
YSI's 2900D is the base configuration of the 2900 series. It includes one biosensor module and can process two analytes simultaneously. Flexible and fast, the 2900D can find a home in virtually any food, medical research, or biofuel laboratories.
Our used 2900D has been inspected and tested by our technical staff, who reported no problems at any point in testing. Included with it is a power cable and a 90-day warranty so you're protected in the slim chance it malfunctions.
Successful Initialization & Smooth Robotics
Though we were unable to test every aspect of this analyzer, our technicians are confident that it will work reliably for you based on their tests of the pumps, robotics, and control interface.
Our technicians performed the following tests:
- Powered system on and ensured it initialized without error:
PASSED
- Confirmed touch screen and onboard software respond properly to user input:
PASSED
- Sipper liquid sensor works properly:
PASSED
- Reagent/buffer/calibration liquid level sensors work properly:
PASSED
- B1, 1A, and 1B pumps function well:
PASSED
- Sipper aspirates and dispenses:
PASSED
- All axes move and are homed smoothly:
PASSED
- All axes calibrate properly:
PASSED
In Good Cosmetic Condition
With its clear, bright screen and spotless interior, this 2900D is in good condition. It bears just the slightest signs of wear, like some light staining on the front panel door and scuffs on the right side panel. Please review the photos to see more details of the cosmetic condition.
- YSI 2900D Biochemistry Analyzer
- Power Cable
The end user must acquire bottles, rack, and sample tray separately.
From a Professional Dealer to your Lab
New Life Scientific is an experienced scientific vendor with a history of positive customer experiences. You can have confidence in our technical evaluations and our warranty knowing that we have actual in-house technicians who inspect, test, service, and repair the various instrμments we receive.
After examination and thorough cleaning, products often leave our shop meeting manufacturer specs. When you buy from New Life Scientific, you're free to contact us at any time for after-sales support concerning any questions or issues that may arise, even after your warranty expires.
Manufacturer

YSI

Model

2900D

Serial No.

14J000017

Sample size

Adjustable from 10 to 50 microliters (aspirated volume), per module

Response time

Enzyme sensors

Sample results in 60 seconds (average) for one module

100 seconds for 2 modules

135 seconds for 3 modules

Complete sample-to-sample cycle in less than 3 minutes (May vary with analyte and sample matrix)

Ion Selective Electrodes (ISE)

Sample results in 150 seconds (average) for 2 modules

195 seconds for 3 modules

Complete sample-to-sample cycle in less than 5 minutes (May vary with analyte and sample matrix)

Measurement Range

Glucose: 0.05-25 g/L, Lactate: 0.05-2.70 g/L, Glutamate: 15-1460 mg/L, Glutamine: 30-1169 mg/L, Glycerol: 0.75-40 g/L, Xylose: 0.5-30 g/L, Choline: 5-450 mg/L, Hydrogen Peroxide: 3-300 mg/L, Sucrose: 0.1-25 g/L, Ethanol: 0.04-3.2 g/L, Ethanol-HC: 0.5-40 g/L, Methanol: 0.1-2.5 g/L, Lactose: 0.05-25 g/L, Galactose: 0.1-25 g/L

Parameters Measured

Glucose, Lactate, Glutamate, Glutamine, Glycerol, Xylose, Choline, Hydrogen Peroxide, Sucrose, Ethanol, Methanol, Lactose, Galactose

Unit of Measure

mg/dL, mg/L, g/L, %, mmol/L

Output Signals

USB, RS-232

Power Requirements

100-240VAC, 50/60Hz, 35W

Dimensions (W x D x H)

8" x 21" x 22"

Weight

30.5 lbs (13.9 kg)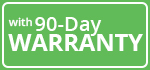 Backed by a 90-Day Warranty - Your instrument works, or we repair, refund, or replace.

Used - A pre-owned and tested product that may show signs of wear.

Free Parcel Shipping - All parcel (65 lbs and below) items are shipped for free unless the buyer chooses to expedite the shipping.

Payment & Security
Your payment information is processed securely. We do not store credit card details nor have access to your credit card information.