Description
Hudson Robotics PCE4-EX PlateCrane EX Microplate Handler & PA1000 Labeler
- Fully Functional
- Excellent Cosmetic & Working Condition
- 90-Day Warranty
Includes: (1) PlateCrane EX Microplate Handler (1) PA1000 Microplate-Barcode-Labeler w/o Printer (1) Teaching Pendant (1) Barcode Scanner (1) Stack Base (2) Universal Microplate Stack (1) Monitor (1) KVM Switch & Cables (3) Power Cord & 90-Day Warranty
Product Description

The PlateCrane EX Microplate Handler and PA1000 Microplate-Barcode-Labeler (w/o printer) are both in excellent cosmetic and working condition. The speed and accuracy of this automated microplate handling system is of the highest quality in the industry, making it an excellent choice for those looking for a fast, precise microplate handling solution.
If you wish to complete the automated workcell, then you will need a compatible label printer (Zebra 96Xilll), SoftLinx scheduling software, and a PC with serial interface. Contact the manufacturer about Zebra 96Xilll and SoftLinx pricing and availability. User manuals are available from the manufacturers website or upon request from New Life Scientific.
Technician's Review
Our in-house technician visually inspected, initialized and tested to insure the full functionality of the equipment.



Manufacturer

Hudson Robotics

Model / Serial Number

PCE4-EX / 11139-972

PA1000 / AL-0402

Specifications




100240VAC, 110VA, 50/60Hz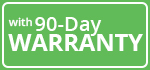 Backed by a 90-Day Warranty -
Your instrument works, or we repair, refund, or replace.
Used - A pre-owned and tested product that may show signs of wear.

Flat-Rate Freight ($285) - The instrument is web-wrapped to a pallet with shrink-wrap.
Payment & Security
Your payment information is processed securely. We do not store credit card details nor have access to your credit card information.