Description
Immucor Galileo Echo Analyzer it a Compact Immunohematology Automation, Incomplete System Technician Tested to be Functional
Power supply available separately from our company while supplies last!
- Efficiency: Allows blood banks to automate more
- ABO/Rh D Type - Donor Confirmation - ABO Retype
- Weak D Phenotype Antibody Screen (3-cell)
- Antibody Identification IgG DAT IgG Crossmatch
- Flexibility: Linear sample and reagent racks allow
samples and supplies to be loaded at anytime
- LED user interface for continuous loading

Technician Inspected and Maintenance
Our technician applied power to the unit and tested the camera succeeding in receiving an image. This unit is not a complete system but is in working condition to be completed as a working system or to be used in replacing a part of an already-in-use system. The buyer will need to supply a Power Supply, PC with software and cabling.
This system will be packed to ship with locking screws.

Included with this system
- CD with calibration files
- Fluidics Unit with waste and reagent vessels
- 2x Cables to connect the main unit to fluidics unit
Used
- A pre-owned and tested instrument that may show signs of wear
U.S. & Canada Freight ($285)
- Exclusive shipping to the U.S. and Canada. Freighted products below $1,500 are assigned this profile.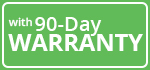 Backed by a 90-day Warranty
- Your instrument works, or we repair, refund, or replace.
Payment & Security
Your payment information is processed securely. We do not store credit card details nor have access to your credit card information.