Description
Kendro Sorvall RC-5C Plus Refrigerated Superspeed Floor Centrifuge -- Cooling Beyond Specification
A time-tested and proven high-speed centrifuge, this Sorvall RC-5C Plus has been thoroughly inspected by our technical staff and tested to confirm it reaches 19,000 rpm while holding at +0°C. It's in good physical condition with only some minor signs of wear. Even so we repainted the panels and lid (see photos).
With our 90-day warranty and knowledgeable testing, you can buy with confidence knowing you'll get a fully functional centrifuge that will work on day one and is protected against unexpected issues.
Speed and Cooling Meet Manufacturer Specification
Our technicians inspected and tested this centrifuge, guaranteeing it will hold a low temperature steadily during operation at top speeds. After recharging it, the refrigeration system was able to keep the rotor chamber at +0°C when spinning at 19,000 rpm. This exceeded the manufacturer's specification of +2°C. This centrifuge is configured for 208V.
Our technician also performed some basic maintenance on this, like replacing the temperature dials and brake assembly mounts. We also repainted the panels and lid.
- Tested centrifuge to 19,000 rpm with no problems:
PASSED
- Refrigeration held at +0°C during operation at 19,000 rpm:
PASSED
- Latches and all switches work:
PASSED
Full Recharge of the Refrigeration System
To ensure the refrigeration is operating at manufacturer specification, our technician performs a full evacuation of the refrigeration system and refills it with new refrigerant. The recharge process involves the following:
- Vent system of refrigerant
- Apply 250-micron vacuum to test for leaks, remove debris, and boil off moisture in lines
- Nitrogen purge three times to clear lines for preventative maintenance
- Refill system with new refrigerant
- Confirm system is operating to manufacturer specification
We repainted the panels and lid to ensure that this centrifuge will leave in better condition than which it came. If you review the photos, you will see a floor centrifuge that doesn't look at all like it was built in the year 2002.
This centrifuge doesn't come with a rotor, but we likely have one in stock so please don't hesitate to contact us about adding one to your purchase.
From an Experienced Centrifuge Dealer to Your Facility
New Life Scientific is no stranger to centrifuges. Over the past four years we have dealt in and worked on a wide variety of benchtop and floor centrifuges from the top manufacturers, including Eppendorf, Beckman, and Sorvall/Thermo.
You can have confidence in our technical evaluations and our warranty knowing that we have actual in-house technicians who inspect, test, service, and repair centrifuges. After their examinations and being cleaned inside and out, they often leave our shop meeting manufacturer specs.
When you buy from us, you're not just buying a centrifuge. You also gain a resource for after-sales support for any questions or issues that may arise, even after your warranty expires.
| | |
| --- | --- |
| Manufacturer | Kendro Sorvall |
| Model | RC-5C Plus |
| Serial No. | 10200447 |
| Mfg. Date | 2002 |
| Maximum speed | 21,000 rpm |
| Maximum RCF | 51,070 x g |
| Speed range | 50 - 21,000 |
| Speed control accuracy | ±1% or 100 rpm, whichever is greater |
| Temperature set range | -20 to +40°C |
| Temperature control | +2 to +40°C |
| Temperature accuracy | ±1°C |
| Ambient temperature range | +15 to +38°C |
| Run time | 0 to 99 hr / 59 min or Hold |
| Electrical Requirements | 208 V, 60 Hz, 24 A, 5 Kw |
| Dimensions (W x D x H) | 30" x 38.5" x 45" |
| Weight | 308 kg (680 lb) |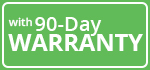 Backed by a 90-Day Warranty - Your instrument works, or we repair, refund, or replace.

Used - A pre-owned and tested product that may show signs of wear.

Flat-Rate Freight ($285) - The instrument is web-wrapped to a pallet with shrink-wrap.

Payment & Security
Your payment information is processed securely. We do not store credit card details nor have access to your credit card information.