Functional Condition
These instruments perform at manufacturer specifications, having undergone repair or service and sometimes cosmetic refinishing. Often, our work leaves the instrument in better functional condition and expected longevity than other used instruments of the same age. They are in excellent cosmetic condition.

Includes 120 day Warranty

These instruments have been confirmed to perform at manufacturer specifications by NLS technical staff and carry a longer warranty than standard used products. Additional extended warranties may be available for these instruments.

Includes 120 day Warranty

These instruments have undergone various levels of quality testing, some quite limited and others extensive. However, all are guaranteed to perform to manufacturer specifications unless some defect or limitation has been specified. Please pay close attention to the description to understand exactly what you are purchasing.

Includes 90 day Warranty

These instruments are either known to be malfunctioning or not guaranteed to function properly and are suitable for repair or salvaging for parts. They are not protected by a warranty.

Does not include a warranty
Cosmetic Condition
This product could almost be mistaken for being new, having negligible or no cosmetic issues. These issues may include things such as a small scratch or a few small nicks in the exterior. Little can be done to improve the condition level of this product.

This product has the appearance of a typical used product having some minor cosmetic issues and typical wear from use. These issues may include things such as scratches, scuff marks, nicks, a small hairline crack, or shallow dents in the exterior. Fixing these issues would only somewhat improve the condition level of this product, but wouldn't be considered necessary.

This product is clearly used and worn from much use having significant cosmetic issues and wear. These issues may include things such as large sections of paint chipping, scratches, deep scuff marks, dents, discoloration, cracks or stains. Fixing these issues would improve the condition level of this product, but it may be too costly.

This has the appearance of being broken and/or heavily worn from use having serious cosmetic issues and wear. These issues may include things such as huge sections of missing paint, discoloration, caustic erosion, deep dents, large cracks or frame warping. A major overhaul of the cosmetics would be required to fix the issues with this product.
Description
Leica CM1510S-3 Cryostat in Good Condition -- Fully Tested by Technician and Refrigeration Recharged
Featuring a cooling range of -30°C to 0°C and a quick-freezing shelf, the CM1510S was engineered with skin cancer sectioning and Mohs surgical procedures in mind. Having been discontinued in early 2012, the CM1510S lives on in the used equipment market as an excellent option for labs looking to save.
We have serviced this unit to perform as close to spec as possible, even going so far as to recharge the refrigeration system. Thanks to our work, this cryostat now cools to -29°C (just one degree shy of the lowest temperature setting -30°C), and the rest of the unit's functionality can hold its own against even a new one.
Refrigeration Evacuated & Recharged
To ensure the refrigeration is operating at manufacturer specification, a NLS technician performs a full evacuation of the refrigeration system and refills the system with new refrigerant. The recharge process involves the following:
- Vent system of refrigerant
- Apply 250 micron vacuum to test for leaks, remove debris, and boil off moisture in lines
- Nitrogen purge three times to clear lines for preventative maintenance
- Refill system with new refrigerant
- Confirm system is operating to manufacturer specification
Fully Tested with No Problems Found
After recharging the refrigeration, our technician found that the cryostat could pull the chamber down to -29°C -- just one degree shy of the minimum temperature specified by Leica. All other parts of the cryostat worked flawlessly.
You Will Receive the Following:
- Leica CM1510S-3 cryostat
- Power cable
- High-profile blade holder*
- Waste trays
*This blade holder does not come equipped with an anti-roll plate.
Aside from some typical wear 'n tear from use, this cryostat has been maintained well and doesn't have any significant cosmetic issues, such as dents or cracks. Please review the photos for more details.

From a Professional Dealer to your Lab
New Life Scientific is an experienced scientific vendor with a history of positive customer experiences. You can have confidence in our technical evaluations and our warranty knowing that we have actual in-house technicians who inspect, test, service, and repair the various instruments we receive.
After examination and thorough cleaning, products often leave our shop meeting manufacturer specs. When you buy from New Life Scientific, you're free to contact us at any time for after-sales support concerning any questions or issues that may arise, even after your warranty expires.
Manufacturer

Leica

Model

CM1510S-3

Kat. No.

043638460

Fabr. No.

5425/05.2006

Mfg. Date

May 2006

Microtome type

Rotary

Section thickness setting

1 -60 um; in 1-um steps from 1 to 10 um in 2-um steps from 10 to 20 um in 5-um steps from 20 to 60 um

Total horizontal specimen feed

25 mm

Vertical stroke

59 mm

Maximum specimen size

55 x 55 mm

Specimen orientation

8° (x-,y-,z-axis)

Electrical coarse feed

slow: 0.2 um/s
fast: 0.7 um/s

Refrigeration range

0°C to -30°C

Temperature of quick-freezing shelf

Max. -44°C at a temperature of -30°C

Defrosting

Automatic hot gas defrosting,
defrost time freely programmable,
manual defrosting of quick-freeze shelf and evaporator duration: 8 min.

Power Specifications

120V, 60Hz, 1300VA

Dimensions (W x D x H)

27.5" x 27" x 46.5"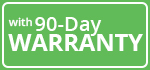 Backed by a 90-Day Warranty - Your instrument works, or we repair, refund, or replace.

Used - A pre-owned and tested product that may show signs of wear.

Flat-Rate Freight with Custom Crate ($380) - The instrument is protected by a custom-built, foam-padded crate.

Payment & Security
Your payment information is processed securely. We do not store credit card details nor have access to your credit card information.
Ask a Question or Request a quote!
Ask a Question or Request a quote!