Functional Condition
These instruments perform at manufacturer specifications, having undergone repair or service and sometimes cosmetic refinishing. Often, our work leaves the instrument in better functional condition and expected longevity than other used instruments of the same age. They are in excellent cosmetic condition.

Includes 120 day Warranty

These instruments have been confirmed to perform at manufacturer specifications by NLS technical staff and carry a longer warranty than standard used products. Additional extended warranties may be available for these instruments.

Includes 120 day Warranty

These instruments have undergone various levels of quality testing, some quite limited and others extensive. However, all are guaranteed to perform to manufacturer specifications unless some defect or limitation has been specified. Please pay close attention to the description to understand exactly what you are purchasing.

Includes 90 day Warranty

These instruments are either known to be malfunctioning or not guaranteed to function properly and are suitable for repair or salvaging for parts. They are not protected by a warranty.

Does not include a warranty
Cosmetic Condition
This product could almost be mistaken for being new, having negligible or no cosmetic issues. These issues may include things such as a small scratch or a few small nicks in the exterior. Little can be done to improve the condition level of this product.

This product has the appearance of a typical used product having some minor cosmetic issues and typical wear from use. These issues may include things such as scratches, scuff marks, nicks, a small hairline crack, or shallow dents in the exterior. Fixing these issues would only somewhat improve the condition level of this product, but wouldn't be considered necessary.

This product is clearly used and worn from much use having significant cosmetic issues and wear. These issues may include things such as large sections of paint chipping, scratches, deep scuff marks, dents, discoloration, cracks or stains. Fixing these issues would improve the condition level of this product, but it may be too costly.

This has the appearance of being broken and/or heavily worn from use having serious cosmetic issues and wear. These issues may include things such as huge sections of missing paint, discoloration, caustic erosion, deep dents, large cracks or frame warping. A major overhaul of the cosmetics would be required to fix the issues with this product.
Description
Hacker Instruments & Industries Product Excerpt:
The RHS Tissue Processing Systems will reduce processing time to 1/3rd of the time required by a conventional tissue processor. The quality of the tissues is outstanding and consistent. You can now process all tissue types simultaneously, with one program. The system is virtually maintenance free and is ready to go whenever you are. Imagine the tremendous benefit of reduced turnaround time for your lab, and for a patient. Not only will you be able to produce same day results, the RHS System needs just one environmentally friendly reagent and paraffin to get the job done. No more xylene, no stockpiles of reagents to accommodate in your lab.
Condition Description
The Milestone RHS-1 microwave is in good working and cosmetic condition. New Life Scientific technicians examined the instrument and it is verified to be functional.
Technical Evaluation
The technicians inspected the electrical connections and cables, powered the unit on, and observed that all power lights and fans operate. The control modules built-in computer (available separately) and software were booted and began the initialization process. The technicians accessed the service account and performed both vacuum and microwave tests; the microwave power functioned as intended. The temperatures were calibrated and the switching terminals were inspected. After multiple examinations were performed on this instrument, the technicians concluded that it is functional. Please contact New Life Scientific and the links provided for more product information.
**The control module and vacuum module are not included.
Includes:
-RHS-1 Microwave
-Cassette Vessel
-110 Rack



Manufacturer

Milestone

Model

RHS 1 Milestone Micromed T/T

Microwave Serial Number

128678

Power

115 V & 60 Hz

Accessories

RHS 110 Cassette Module and Glass Beaker

Vessel Rack

Power Cord
Used - A pre-owned and tested instrument that may show signs of wear.
Flat-Rate Freight ($285)
- The instrument is web-wrapped to a pallet with shrink-wrap.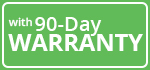 Backed by a 90-day Warranty
- Your instrument works, or we repair, refund, or replace.
Payment & Security
Your payment information is processed securely. We do not store credit card details nor have access to your credit card information.