Description
Complete Milli-Q Direct 16 Water Purification System with Q-Pod Dispenser and 100L Tank
This Milli-Q Direct 16 water purification system is complete with Q-Pod Dispenser (for ultrapure water) and 100-liter tank and only needs replacement consumables to begin filtering water in your lab.
Apart from a malfunctioning water sensor that limits the tank to 8-liters of water, we warrant this instrument to be fully-functional, once you install the needed consumables.
Ultrapure Water for a Variety of Applications
The Direct 16 system offers 16 L/h flow rates and can be used to produce Level III pure water, which is stored in the tank, or on-demand Level I Ultrapure water dispensed from the included Q-Pod accessory.
Along with the correct Application Pak Accessory, this filtration system is suitable for:
- Experiments requiring bacteria, pyrogen and nuclease-free water (Biopak Polisher)
- Water for volatile organic compounds analysis (VOC-Pak Polisher)
- Water for endocrine disruptors experiments (EDS-Pak Polisher)
- Water for ultratrace organic analysis (LC-Pak Polisher)
- Experiments requiring bacteria and particulate-free water (Millipak Filter)
Replacement Consumables Recommended
We have not confirmed the purity of water that this system is currently producing, so we recommend replacing the essential filtration components, including:
- Progard
®
Pre-treatment pack
- RO Cartridges
- UV Lamp(s)
- Q-Pak
®
Polishing Cartridge
- Application Pak of your choice
We realize this can be expensive, but at a fraction of the cost of a new filtration unit, there is room for cost-savings in this filtration system.
Passes Initialization - Protected by Our Warranty
Our technician did test some functions of the instrument. Running the initialization cycle proved that the recirculation pumps are working. Pressing the Q-POD switch opened a relay in the main system. These were positive signs that the instrument was in working order.
Although deep testing was not performed on this system, our warranty covers any unexpected malfunctions you may encounter.
Tank Sensor is Faulty - Replace if You Need More than 8L On Demand
A technician could potentially replace or repair the sensor.
This instrument is in good cosmetic condition. There are few bumps, or knicks in the vulnerable plastic casing. Although the plastic is showing the slightest discoloration due to age, it is not really noticeable. Abrasive scuff marks are minimal. There are a few, tiny colored scuff marks on the top of the filtration system.
The tank has light grey discoloration, most noticeably near the bottom.
Overall, there are no signs of serious abuse that would cause concern.
- Milli-Q Direct 16 Water Purification System
- Q-POD Remote Dispenser
- 100 Liter Polyethylene Tank (Minimizes contamination)
- Assorted hoses, tubing, and fittings (see pictures)
- Milli-Q Direct 16 to Q-POD communication cable
- Power cable
From a Professional Dealer to your Lab
New Life Scientific is an experienced scientific vendor with a history of positive customer experiences. You can have confidence in our technical evaluations and our warranty knowing that we have actual in-house technicians who inspect, test, service, and repair the various instruments we receive.
After examination and thorough cleaning, products often leave our shop meeting manufacturer specs. When you buy from New Life Scientific, you're free to contact us at any time for after-sales support concerning any questions or issues that may arise, even after your warranty expires.
Manufacturer

Millipore

Catalogue Numbers:

Milli-Q Direct 16
Q-POD Remote Dispenser
100 Liter PE Tank




ZR0Q01600
ZMQSP0D02
TANKPE100

Serial Numbers:

Milli-Q Direct 16
Q-POD Remote Dispenser
100 Liter PE Tank




F3NA30012 C
F3NA28792
MA7J1957000

Country Of Manufacture

France

Water Quality

Type,1 Type 3

Feed Water Nature

Potable Tap Water

Flow Rate

16 L/h

Daily Product Water Usage

300 L/Day

Product Water Particulates

< 1 unit/mL (Particulates >0.22μm with Millipak filter)

Ionic rejection by RO

≥ 97%

Organic rejection by RO

≥ 99% for MW ≥ 200

Particulate rejection by RO

≥ 99%

Product Water DNase

Ultrapure water: < 5pg/mL (with Biopak® Polisher)

Product Water Microorganisms

Ultrapure water: < 0.01 CFU/mL (with Millipak® or Biopak® pout-of-use filters)

Product Water Pyrogens

Ultrapure water: < 0.001 EU/mL (with Biopak® Polisher)

Product Water RNase

Ultrapure water: < 1pg/mL (with Biopak® Polisher

Product Water Resistivity at 25 C

18.2 MΩ·cm (Pure Water: Type 3

Dimensions (HxWxD)

28.07" x 16.25" x 22.87" (71.3cm x 41.3cm x 58.1cm)

Operating Weight

61.7lb (28kg)

Product water Instant Delivery Rate

Up to 2L/min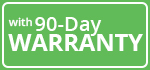 Backed by a 90-Day Warranty - Your instrument works, or we repair, refund, or replace.

Used - A pre-owned and tested product that may show signs of wear.

Flat-Rate Freight ($285) - The instrument is web-wrapped to a pallet with shrink-wrap.

Payment & Security
Your payment information is processed securely. We do not store credit card details nor have access to your credit card information.