Functional Condition
These instruments perform at manufacturer specifications, having undergone repair or service and sometimes cosmetic refinishing. Often, our work leaves the instrument in better functional condition and expected longevity than other used instruments of the same age. They are in excellent cosmetic condition.

Includes 120 day Warranty

These instruments have been confirmed to perform at manufacturer specifications by NLS technical staff and carry a longer warranty than standard used products. Additional extended warranties may be available for these instruments.

Includes 120 day Warranty

These instruments have undergone various levels of quality testing, some quite limited and others extensive. However, all are guaranteed to perform to manufacturer specifications unless some defect or limitation has been specified. Please pay close attention to the description to understand exactly what you are purchasing.

Includes 90 day Warranty

These instruments are either known to be malfunctioning or not guaranteed to function properly and are suitable for repair or salvaging for parts. They are not protected by a warranty.

Does not include a warranty
Cosmetic Condition
This product could almost be mistaken for being new, having negligible or no cosmetic issues. These issues may include things such as a small scratch or a few small nicks in the exterior. Little can be done to improve the condition level of this product.

This product has the appearance of a typical used product having some minor cosmetic issues and typical wear from use. These issues may include things such as scratches, scuff marks, nicks, a small hairline crack, or shallow dents in the exterior. Fixing these issues would only somewhat improve the condition level of this product, but wouldn't be considered necessary.

This product is clearly used and worn from much use having significant cosmetic issues and wear. These issues may include things such as large sections of paint chipping, scratches, deep scuff marks, dents, discoloration, cracks or stains. Fixing these issues would improve the condition level of this product, but it may be too costly.

This has the appearance of being broken and/or heavily worn from use having serious cosmetic issues and wear. These issues may include things such as huge sections of missing paint, discoloration, caustic erosion, deep dents, large cracks or frame warping. A major overhaul of the cosmetics would be required to fix the issues with this product.
Description
At a Glance
-Excellent Condition
-Includes:
(2) Tecan Cavro Syringes (5005113)
Reservoirs / Jugs (5001662, 5005296, 507797,507792)
Assorted Tubing (5001494, 5004542, 5001492)
Assorting Fittings & Connectors (5000775, 5001493, 5004548, 5004540, 5004275, 5005246, 5005116)--(see photos for more)
Electrode Plate (5012131)
Installed Tubing & Jugs
Barracuda Fluids Station
Technical Evaluation
New Life Scientific evaluated the Barracuda's physical and functional condition; this system is incomplete and will require a specific computer workstation with the software. There may be additional components required prior to application. The Barracuda arrived incredibly clean and with various consumables (listed).
The technicians powered the Barracuda on and remarked that the voltage lights illuminate after a few moments. This product will be sold as a used-working instrument, with the understanding that we cannot provide the required software (PC workstation) but the monitor, keyboard, and mouse are included.
Condition
The Barracuda is in excellent cosmetic condition and features a number of accessories for basic application. There are no signs of cosmetic damage that would indicate dysfunction, but NLS could not test this system without the proprietary PC. The robotics, plate, washer, pumps, and pipeting head are all in great condition and suitable for use when paired with the appropriate software.
Manufacturer's Product Overview:
Applications
-384-well format assay
-Ligand Gated Ion Channel Assays
-Voltage Gated Ion Channel Assays
Technology & Features
-Automated
-Ultrasonic tip washer
-Deck w/ Boat Positions & Compound Plates
Manufacturer

Molecular Devices

Model

Serial Number

IonWorks Barracuda

IB0101

Dimensions

1.2m (48") W x 0.8m (33") D x 1.8m (72") H

Power Requirements

100-240 VAC
Used
- A pre-owned and tested instrument that may show signs of wear
Oversize Freight ($380)
- Reserved for products exceeding 43" in length and 43" in width.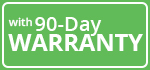 Backed by a 90-day Warranty
- Your instrument works, or we repair, refund, or replace.
Payment & Security
Your payment information is processed securely. We do not store credit card details nor have access to your credit card information.
Ask a Question or Request a quote!