Functional Condition
These instruments perform at manufacturer specifications, having undergone repair or service and sometimes cosmetic refinishing. Often, our work leaves the instrument in better functional condition and expected longevity than other used instruments of the same age. They are in excellent cosmetic condition.

Includes 120 day Warranty

These instruments have been confirmed to perform at manufacturer specifications by NLS technical staff and carry a longer warranty than standard used products. Additional extended warranties may be available for these instruments.

Includes 120 day Warranty

These instruments have undergone various levels of quality testing, some quite limited and others extensive. However, all are guaranteed to perform to manufacturer specifications unless some defect or limitation has been specified. Please pay close attention to the description to understand exactly what you are purchasing.

Includes 90 day Warranty

These instruments are either known to be malfunctioning or not guaranteed to function properly and are suitable for repair or salvaging for parts. They are not protected by a warranty.

Does not include a warranty
Cosmetic Condition
This product could almost be mistaken for being new, having negligible or no cosmetic issues. These issues may include things such as a small scratch or a few small nicks in the exterior. Little can be done to improve the condition level of this product.

This product has the appearance of a typical used product having some minor cosmetic issues and typical wear from use. These issues may include things such as scratches, scuff marks, nicks, a small hairline crack, or shallow dents in the exterior. Fixing these issues would only somewhat improve the condition level of this product, but wouldn't be considered necessary.

This product is clearly used and worn from much use having significant cosmetic issues and wear. These issues may include things such as large sections of paint chipping, scratches, deep scuff marks, dents, discoloration, cracks or stains. Fixing these issues would improve the condition level of this product, but it may be too costly.

This has the appearance of being broken and/or heavily worn from use having serious cosmetic issues and wear. These issues may include things such as huge sections of missing paint, discoloration, caustic erosion, deep dents, large cracks or frame warping. A major overhaul of the cosmetics would be required to fix the issues with this product.
Description
Successfully Tested Temperature and RPM Water Bath/Shaker
Multi-Functional and Easy to Use
In Good Physical Condition with Minor Wear
The water bath shaker is ideal for hybridization studies, gel staining
de-staining, as well as for culturing cells. This beauty is extremely
quiet when shaking, you hardly hear anything.
Included Features
- Microprocessors Ensure Precise Control of temperature, agitation
speed and running time
- Temperature Range is 7C above ambient to 80C
- Agitation 50- 300RPM
- Heavy Gauge Stainless Steel Bath is crevice free, easy to clean, and
rust resistant
** Although this is missing the platform it would make an ideal extra water
bath/shaker for a lab that may already have several platforms. They may also
be purchased from the manufacturer or from a third party to suit your application
needs.
** This water bath does not come with the cooling coil package.
Technician Tested and Inspected
Our technician inspected and test the temperature settings and shaking speed
with no issues arising. With this extremely quiet running shaker, this water bath
would make an excellent addition to your lab.
Includes a 90-Day Warranty for your protection
We realize that buying a second-hand instrument can be unnerving,
therefore we offer a 90-Day Warranty to protect you against any
equipment failure or defects.
Specifications


Manufacture

New Brunswick Scientific

Model

Classic C76

Mfg. Number

M1248-0002

Serial Number

401070366

Power Requirements

100/120V, 50/60Hz, 1215VA, 1Ph

Dimensions

(WxDxH)

Exterior: 21.4 x 16.5 x 18.5 (24 w/Lid) in

Interior: 13.75 x 17.5 x 8 in
Reliable Instrument Vendor
New Life Scientific is an experienced scientific vendor with a history of
positive customer experiences (just check out our eBay reputation!). You
can have confidence in our technical evaluations and our warranty knowing
that we have actual in-house technicians who inspect, test, service, and repair
the various instruments we receive.
Used
- A pre-owned and tested instrument that may show signs of wear
U.S. & Canada Freight ($285)
- Exclusive shipping to the U.S. and Canada. Freighted products below $1,500 are assigned this profile.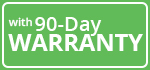 Backed by a 90-day Warranty
- Your instrument works, or we repair, refund, or replace.
Payment & Security
Your payment information is processed securely. We do not store credit card details nor have access to your credit card information.
Ask a Question or Request a quote!
Ask a Question or Request a quote!