Description
QIAGEN QIAxpert Microfluidic Slide UV/Vis Spectrophotometer in Good Condition
Perfect for labs looking to run batches of slides, the QIAxpert offers convenient spectroscopy automation in a small form factor. Unlike competing models such as Thermo Fisher's NanoDrop, the QIAxpert allows you to simply pipette up to 16 samples onto a single QIAxpert microfluidic slide, start the analysis, and do other work while they're automatically processed.
Our QIAxpert initializes without issue and is in good condition all around. Included with it is a power adapter and cable. QIAxpert microfluidic slides must be acquired separately from QIAGEN.
Successful Initialization & Software Test
After cleaning and inspecting it, we fired up this QIAxpert and noted no problems. It initialized successfully and we were able to step through the software (see photos) without any error messages appearing, including a complete self-test.
Although we were unable to test its spectroscopy abilities without the required consumables, based on the results of our testing this spectrophotometer should work just as intended.
We are backing this system with a 90-day warranty. Please note that the end user will need to acquire the QIAxpert microfluidic slides, which are available from QIAGEN's website.
In Good Condition -- Only Minor Scuffing
Overall, this QIAxpert does not have significant damage or blemishes. The screen is clear and free of scratches. There are some scratches on the left panel and a few nicks on the back (see photos), but otherwise the unit will fit in well in your lab.
Walk-Away Batch Processing to Save You Time
From a Professional Dealer to your Lab
New Life Scientific is an experienced scientific vendor with a history of positive customer experiences. You can have confidence in our technical evaluations and our warranty knowing that we have actual in-house technicians who inspect, test, service, and repair the various instruments we receive. 
After examination and thorough cleaning, products often leave our shop meeting manufacturer specs. When you buy from New Life Scientific, you're free to contact us at any time for after-sales support concerning any questions or issues that may arise, even after your warranty expires.
| | |
| --- | --- |
| Manufacturer | QIAGEN |
| Model | QIAxpert |
| Serial No. | 200391 |
| Mfg. Date | November 2015 |
| Power Requirements | 24VDC, 30W |
| Absorbance precision | 0.001 OD |
| Absorbance accuracy | 4% (0.66 OD at 350 nm) |
| Concentration range | 1.5 ng/μl up to 2000 ng/μl dsDNA (A260 dsDNA application) |
| Data output | USB, TCP/IP or QR code |
| Light source | Xenon flash lamp |
| Maximum sample residence time | 2 hours |
| Measurement range (10 mm equivalent) | 0.03–40 OD |
| Measurement time | Approximately 2 minutes for fully loaded slide |
| Path length | 0.5 mm |
| Optical principle | Ultrasensitive photodiode array spectrophotometer for UV-VIS range |
| Photometric range | 0.0005–2.0 OD |
| Power supply | 100–240 V, 50/60Hz (operating voltage 24 VDC) |
| Recommended sample quantity | 2 µl |
| Samples per run (throughput) | 1–16 samples per run (blanks included) |
| Software | v2.4.0.56 |
| Type | UV/VIS polychromatic system + reference channel |
| Wavelength accuracy | ≤0.2 nm |
| Wavelength range | 230–750 nm |
| Wavelength reproducibility | 0.1 nm |
| Wavelength resolution | <3 nm |
| Dimensions | (W) 23 x (D) 28 x (H) 30 cm |
| Weight | 9 kg |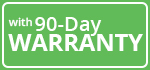 Backed by a 90-day Warranty - Your instrument works, or we repair, refund, or replace.

Used
- A pre-owned and tested instrument that may show signs of wear
Flat-Rate Freight with a Custom Crate ($380)
- The instrument is protected by a custom-built, foam-padded crate.
Payment & Security
Your payment information is processed securely. We do not store credit card details nor have access to your credit card information.