Functional Condition
These instruments perform at manufacturer specifications, having undergone repair or service and sometimes cosmetic refinishing. Often, our work leaves the instrument in better functional condition and expected longevity than other used instruments of the same age. They are in excellent cosmetic condition.

Includes 120 day Warranty

These instruments have been confirmed to perform at manufacturer specifications by NLS technical staff and carry a longer warranty than standard used products. Additional extended warranties may be available for these instruments.

Includes 120 day Warranty

These instruments have undergone various levels of quality testing, some quite limited and others extensive. However, all are guaranteed to perform to manufacturer specifications unless some defect or limitation has been specified. Please pay close attention to the description to understand exactly what you are purchasing.

Includes 90 day Warranty

These instruments are either known to be malfunctioning or not guaranteed to function properly and are suitable for repair or salvaging for parts. They are not protected by a warranty.

Does not include a warranty
Cosmetic Condition
This product could almost be mistaken for being new, having negligible or no cosmetic issues. These issues may include things such as a small scratch or a few small nicks in the exterior. Little can be done to improve the condition level of this product.

This product has the appearance of a typical used product having some minor cosmetic issues and typical wear from use. These issues may include things such as scratches, scuff marks, nicks, a small hairline crack, or shallow dents in the exterior. Fixing these issues would only somewhat improve the condition level of this product, but wouldn't be considered necessary.

This product is clearly used and worn from much use having significant cosmetic issues and wear. These issues may include things such as large sections of paint chipping, scratches, deep scuff marks, dents, discoloration, cracks or stains. Fixing these issues would improve the condition level of this product, but it may be too costly.

This has the appearance of being broken and/or heavily worn from use having serious cosmetic issues and wear. These issues may include things such as huge sections of missing paint, discoloration, caustic erosion, deep dents, large cracks or frame warping. A major overhaul of the cosmetics would be required to fix the issues with this product.
Description
RonTech MF / CoF2 Compact Friction Feeder Pharmaceutical Food Pamphlet Inserter
These pamphlet inserters can also be purchased as part of a larger cartoning and case packing packaging line that we also have listed on eBay.
The RonTech model MF friction feeder is used for packaging small flat products. This stainless steel feeder was used as a pamphlet insertion device in a US pharmaceutical facility. This instrument is applicable to insert and handle different size products which may be used in the food, pharmaceutical, and cosmetic industry. Please see the product overview below from RonTech's product page.
-Speed Maximum: 240 m/min
-Product Formats: 30x30 mm...400x1000 mm
-Product Features: min. 80 g/m2 flat/folded
-Product Thickness: max. 10 mm
This RonTech friction feeder is is excellent cosmetic condition with minimal signs of wear on the frame and consumable belts. New Life Scientific technicians inspected the mechanical integrity and confirmed that the instrument is functional. The technicians did not power this particular piece; however, it was examined prior to acquisition in a working environment, before it was relocated the the NLS facility. This product is wired to run on 240V, but there is an installed transformer that runs on 480V; the end user may configure this system to fit their needs. This instrument was a component of a larger packaging line and the friction feeder could be added into a line using the provided control panel plug. The wiring schematics are available for review and there are two safety channels featured. The product corridor currently has one belt, but a wider or second belt can be installed. New Life Scientific acquired multiple packaging lines from a major US pharmaceutical facility whose product is now available OTC. This line was used to insert pamphlets, but RonTech publications indicate that it is capable of manipulating flat objects of specified weight and dimensions for additional packaging applications. Please view additional packaging lines in the web store or contact New Life Scientific for details and pricing.
Both of these inserters were manufactured in 2013.
*Please note that the item photographed may not be the exact product received. However, it is a conditional representation of the products available and New Life Scientific strives to choose the best representation of a quantity. *
Our products have likely been decommissioned and decontaminated by the original owner. However, in order to maintain a high standard of safety, all of our products are professionally decontaminated with a water/bleach mixture, as well as other cleaning agents.
Manufacturer

RonTech

Model

13-3320

MFc-220LAVuSmcBaSv90St




Power Requirements

230V 50/60Hz

DOM

February 2013

Motors

Gear Box MX8G100B

Induction AC Motor (25 W 3 Phase)

M8MX25GK4YG

----------------------

SanMotion Servo Motor

R2A-A080-75XH11M

Transformer

Allen Bradley

Single Phase

1497D-A13-M21-0-N

Inspection Camera

Baumer Systech

eS-C110

11045985

---------------------

Fujinon Lens 1:1.4/16mm

HF16HA-1B

---------------------

TIPS

Z001841-12

Sensors

Baumer Diffuse Sensor

OHDK 14P5101/S35A
While New Life Scientific takes many steps to ensure that our instruments are in perfect working order we cannot ensure that all products are up to manufacturer specifications. We recommend every product undergo professional installation and calibration before use in research, production, and clinical applications. For this reason, we offer a 90-day warranty on all of our working products in the interest of maximum customer satisfaction.
Used
- A pre-owned and tested instrument that may show signs of wear
Two Box Shipments/Calculated Freight
- This shipping method requires a custom quote. Please
click here
to contact us.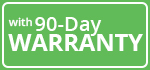 Backed by a 90-day Warranty
- Your instrument works, or we repair, refund, or replace.
Payment & Security
Your payment information is processed securely. We do not store credit card details nor have access to your credit card information.
Ask a Question or Request a quote!
Ask a Question or Request a quote!